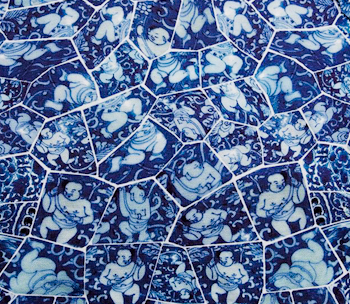 The print of the polo represents happiness and exuberant youth in the eyes of Li Xiaofeng.
李晓峰认为,马球衫的图案代表着幸福和充满生气的青春。
Originally the reason for images of babies was to promote the births and good health of children in an era of high infant mortality. Li points out that joy continues exist even in a life that is always faced with difficulites, a life where we must continually reassemble the pieces after setbacks. Li photographed each of the shards and placed them in life-sized digital pattern of each part of the polo.
本来那些图案上的小孩子是为了在这个婴儿死亡率很高的时代呼吁健康生育,不过李觉得图案上的那种虎虎生气也可以表示,即使生活中充满了荆棘,我们也还是要重新整装待发,继续好好生活下去。他先给每一块碎瓷照了照片,然后把它们做成与真实比例一样大小的数码图样印在马球衫上。