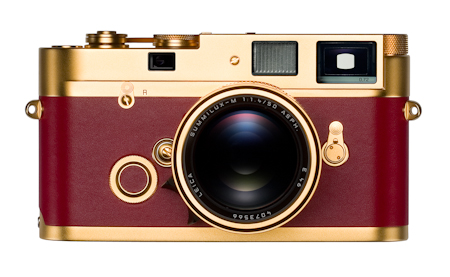 A Leica for China – 中国国庆限量版徕卡
By Jeffrey Ying
Red and gold may very well be the official colors of China. The East is Red but it also likes its Gold and this is reflected in Leica's special Limited Edition camera made to celebrate the 60th Anniversary of the founding of the People's Republic of China in 1949.
The typically sedate Leica MP has been given a makeover with every conceivable metal part plated in 24kt gold, and the body encased in red calfskin. Certain parts of the camera and lens are engraved with select quotes of Chairman Mao and also features an image of Tianamen Square.
Supplied with a classic Summilux 50mm 1.4 lens, this camera is priced at 199,900 RMB and is limited to a run of 60 pieces.
文: 应捷
红色和金色应该称得上是中国的官方色彩。东方的象征是红色,但金色也是东方青睐的颜色之一。在本页这款徕卡品牌为庆祝中华人民共和国建国60周年的特别限量版相机中,可见一斑。
这款徕卡MP,通体将每片可能出现的金属片都镀上24K金,其它部分也由红色皮革包裹。相机和镜头的部分空间,雕刻有毛主席语录,以及天安门广场的图片。配备经典的Summilux 50mm 1.4镜头,限量60台,这款相机的价格为199,900元人民币。