EQ:IQ – A Touch of Dali – Paris, and Probably Beijing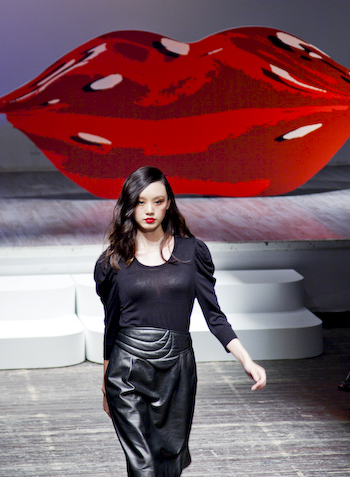 The backdrop for Hong Kong brand EQ:IQ's F/W 2010 RTW Show held at the possibly notorious Yan Club in 798 couldn't help but remind me of the Mae West Lips Sofa by Salvador Dali. The lip motif also appeared in the "Bisous" lip patterned tote and evening bag and in the cardinal red of the lipstick on the models.
Yet the real inspiration for the collection was the home of Creative Director Stephanie Stindel, the City of Light. While hardly a novel place from which to draw inspiration for a fashion collection, one can never really tire of fantasizing about strolls through the Jardin du Luxembourg (or shopping sprees around Place Vendôme). Girls from grayer, murkier towns ought still to mimic Les Femmes de Paris (that was the name of collection) and this appealing array of garments might be one point to start in this pursuit.
And some girls, hearing the word "Paris", might even think first of a kiss – and then remember their plan to acquire the latest LV handbag.
TheEQ:IQ collection was classic but playful – it was a a relief to see fewer risks being taken and emphasis on fabrication and wearable items in a Beijing fashion show. But this was not old chapeau. In fact, the hat print was one of the standout motifs of a night characterized by fresh and playful prints.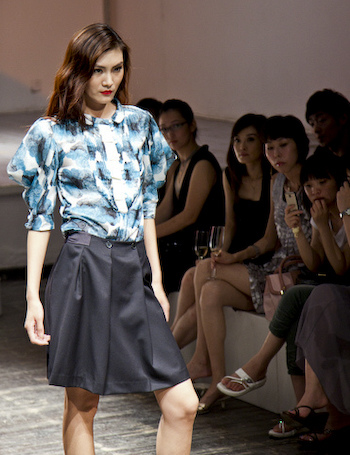 EQ:IQ's cloud print tops and dresses inspired both romantically dreary days gliding down the Seine, arm-in-arm with a lover and Chinese ink paintings. One could not help but consider the longstanding cultural affinity between the two cultures on opposite sides of Eurasia.
Wallpaper print dresses were right out of '70s Paris, while the sweater-skirt covered in little elephants was an adorable reminder of that symbol of all things civilizingly Gallic, his majesty Babar.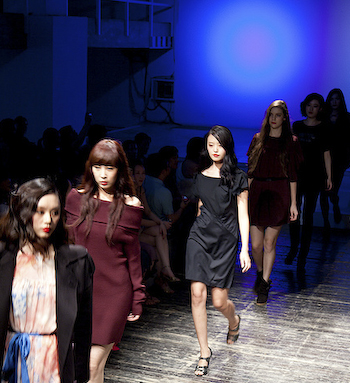 The styling combined femininity, evident in the cuts of the dresses – especially shoulder details, with a rough kind of allure that came through in chunky knits, suede vests, and over-sized jewelry.
Overall EQ:IQ was an alright collection, one supposes, though in truth there was enough champagne served after to ensure that I don't really recall my thoughts at the time. I must confess that I was disappointed to see it was a foreign designer, because while sitting there I was thinking that it was better than much of what I see at the China fashion weeks and that some great local light had been discovered. Those do exist of course, but they seem to still have a hard time forging collaborations with more commercial, mainstream brands like EQ:IQ.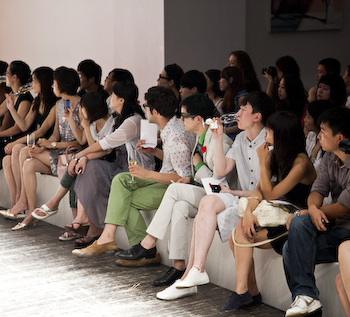 In Paris, it almost never gets as hot as it was in that room at Yan Club. Of course, while I was wearing a whisper thin shirt and furiously fanning myself with the invitation, Jeffrey Ying  remained perfectly composed while fully suited. Perhaps not moving – or worrying – is the true way to keep cool.
Photos of the EQ:IQ show are courtesy of Erin O'Hara. Click here to see more images from that night and other work of Mr. O'Hara.