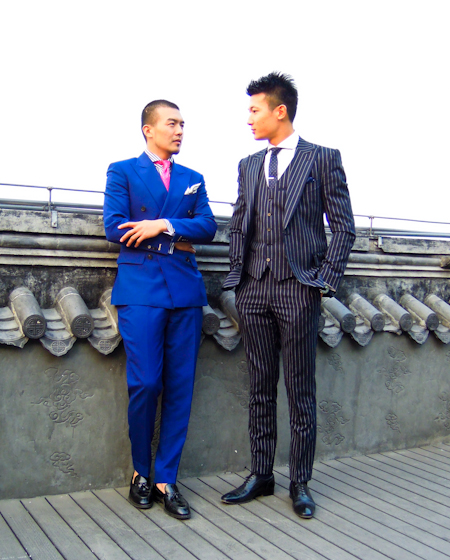 Here are Allen Xie and his colleague Kieran Wang on the patio of Capital M.
Allen Xie is the founder of a Allen and Co., a super stylish bespoke business that offers suits only in Allen's signature style, which is somewhat like Tom Ford – with wide lapels and super slim waists, but cut in such a way that flatters the Chinese physique. Allen also works with local producers to create unique fabrics like the blue one he is wearing.
The brand started in Shanghai and now Allen is opening his first workshop in Beijing, which will be headed up by Kieran.
Prices start at 8,000 RMB for domestic fabric and go as high as 100,000, with a suit in Holland and Sherry worsted going for around 40,000, which is no less than one would pay on Savile Row. Allen is doing extremely well by relying on marketing through his own private events. These occur in his workshop which is in a medium-sized apartment on the eleventh floor of a rather mediocre apartment block about five minutes walk from Xintiandi. He has done it up in a sort of clubhouse fashion and offers a whiskeys and champagne.
So what are the events? Well, poker and boxing and one or the other happens every two weeks. His clients are all second generation wealthy young men under 30 who drive Ferraris and Aston Martins to come to his events. They like his events because they don't have to worry about small talk – unlike at fashion parties where one has to stand around with a flute of champagne and look awkward. Here, there is something to do. Allen also makes sure his parties are well stocked with beautiful women. Customers keep coming back for the stylish environment, the poker and the girls.
Of course, they need a new suit for each event, which they order from him. They would lose face being seen in the same suit twice. He has created a brilliant little micro-environment that seems to play on every little male insecurity and desire. His overhead must be very low indeed.