At Transport Event in Shanghai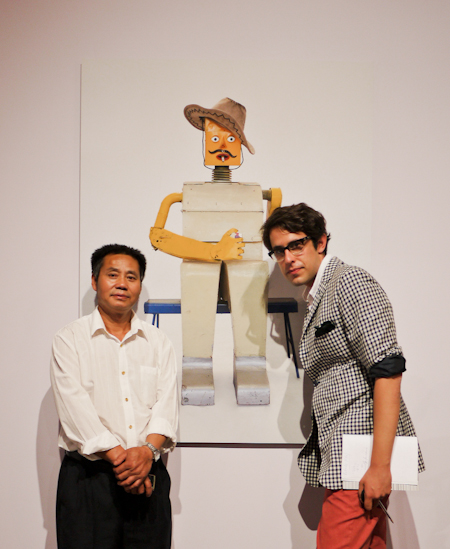 Here I am with Wu Yulu, a farmer from outside Beijing who created the Wu Lao series of robots. Since 1986, Wu has single-handedly built over 40 humanoids capable of performing all sorts of tasks from giving massages to lighting cigarettes. The one pictured behind us is smoking.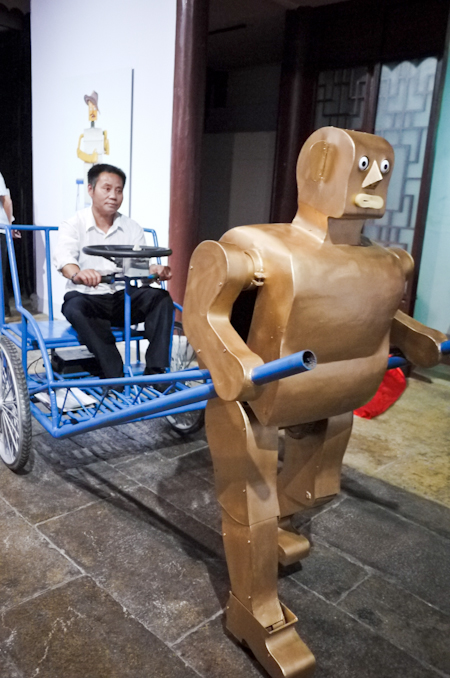 Here is Wu on his rickshaw-pulling robot. This one has a clear link to China's past and could even be said to represent a sort of liberation from a society in which one man pulls another with his own strength. The fact that Wu himself is a farmer makes this more poignant, though this was by no means a stated purpose of his.
Powered by an electric motor, this robot, Wu Lao 32, walks at 30-40 steps per hour and can continue for six hours. Wu Lao 32 also speaks and his lips move and eyeballs bulge. Since his wife was a bit upset about the amount of time Wu gave to his robot hobby, Wu decided to make a robot that could help her fetch groceries, which apparently won over her support.
This event, TRANSPORT: homemade vehicles from around the world, coincided with the release of the transport issue of COLORS magazine. For me, it was a welcome relief from the seemingly constant succession of fashion parties where the purpose seems mainly to showcase yet another glitzy collection while giving preeners another chance to strut their stuff. In many ways, the issue of transport is much dearer to my heart than fashion. Some may know that I am a fanatical bicyclist, in the sense of using them to get places every day (rather than just as a workout tool).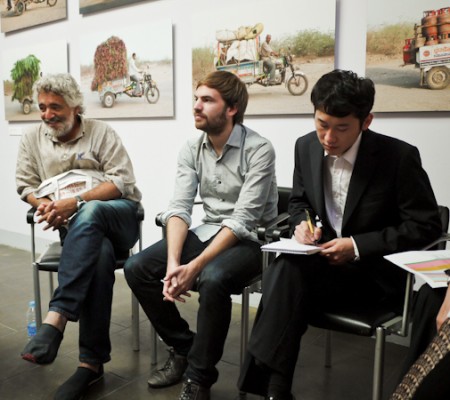 In print since 1991,COLORSis a magazine financed by the Benetton Group through Fabrica, the "communications research institute" of the fashion brand. Above, in the middle, is the Creative Director of COLORSPatrick Waterhouse, who explained that the magazine maintains complete editorial independence. In fact, from what I can tell, Benetton is not mentioned anywhere in the magazine.
It seems COLORS may be interested in more involvement here in China, which would be interesting indeed. I wonder what the reception would be from various parties to a publication that, while not political, could be called "activist". Waterhouse mentioned, somewhat jokingly, that the message of the transport issue may be to "ride a bike" – obviously music to my ears. He also noted that Europeans are flocking to bicycles while Chinese seem to be fleeing them.
More on the event at the Colors blog.