"China's Françoise Sagan"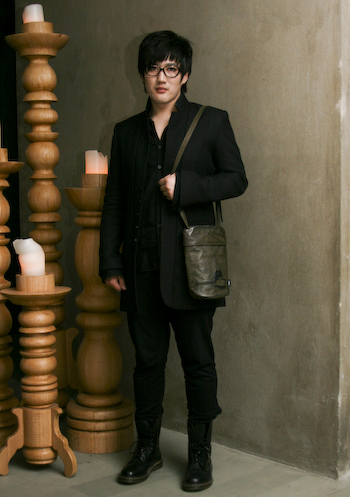 From Heilongjiang Province, Niu Mingyu (牛明昱), 27, has been described by French friends as China's Françoise Sagan. His life is far more adventurous and debaucherous than hers was, he says. In addition to novellas, he writes regularly about beauty, culture, and lifestyle for Trends' L'Officiel, Rayli, New Weekly, and a range of other publications. Last month, he wrote eighty-thousand characters.
Mr. Niu also works full-time as an editor at China Cosmetics (中国美容时尚画报), a recently founded bimonthly magazine that is an offshoot of ten year old China Beauty (中国美容时尚报) magazine and claims a circulation of 170,000. These are part of the media group founded by one Zhang Xiaomei, who is also a CPPCC National Committee member and keeps a blog.
His jacket is from Croquis, the male line that is part of Hangzhou-based JNBY, one of China's most successful brands that was formed completely locally.