Christian Dior Opening at Ullens Center
This fabulous Christian Dior exhibition at the Ullens Center for Contemporary Art is a must-see, and I am rarely so positive. The designer's beautiful creations from the 1940s and 1950s make it worth the price of admission, despite having to wade through the generally obnoxious of Galliano. The conception and design of the exhibition are innovative as well as entertaining. I'm just sorry that I had to rush through because I was on crutches. The narrow walkways that made me more concerned about keeping my footing than looking at the art.
This former model and present editor at Madame Figaro captures a style that one sees a great deal at fashion events and magazines here in China. There are quite a few recent runway looks mixed together here. There is no fear of an angular kind of drama The style is harsh but not macho, esoteric but not eccentric. He is a noble from the future.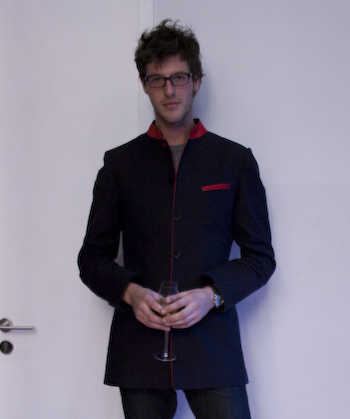 This jacket that also seems distinctly futuristic is an original design by its wearer, a Belgian curator at the Ullens Center. It was a perfect choice for an exhibit that seeks to blend Western fashion with Eastern art. He also had on beautiful J. M. Weston shoes.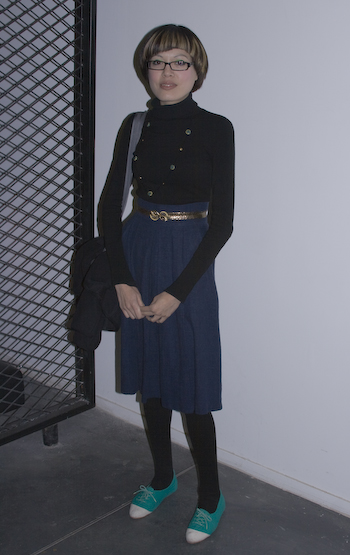 From London, Emilia is an intern at the Beijinger who just arrived in town. She hopes to do more in the field of writing about fashion. With every woman being so dolled-up and glittery at these events, it is always the simpler, more humble and cute styles like this that catch my eye. Or maybe I just find the vamps too intimidating.
My mission was again to photograph the best dressed men, but my state made accomplishing the mission difficult. A huge number of well dressed people escaped me. Events are just so tough. I also have to learn a lot more about flash photography. It is also hard to steal enough space to get full body shots. That said, fashion parties are really the best events in town. Events with free flow of champagne and all the guests trying to look their most fabulous are just so much better than the grinding tedium of typical nightlife.