Facehunter in BeijingFacehunter在北京行
From Triple-Major:
"From 12/30th to 1/2nd, creative studio and concept store based in Beijing, Triple-Major , will invite popular style blogger from Facehunter , Yvan Rodic, to hold a series of events to Beijing. Yvan Rodic has been at the vanguard of one of the decade's most remarkable trends.
Triple-Major提供的:
"位于北京的创作机构与概念店Triple-Major将于12月30日至1月2日邀请知名时尚博客Facehunter的博主Yvan Rodic来到北京进行一系列的活动。在几年前当街拍还没受到瞩目的时候,是Yvan的Facehunter和thesartorialist等街拍网站先驱将街拍的热潮带到全世界。从哥本哈根到伦敦到洛杉矶,Yvan现在除了周游全世界拍街拍外还为各大时尚杂志如Vogue, GQ和New York Times等拍摄。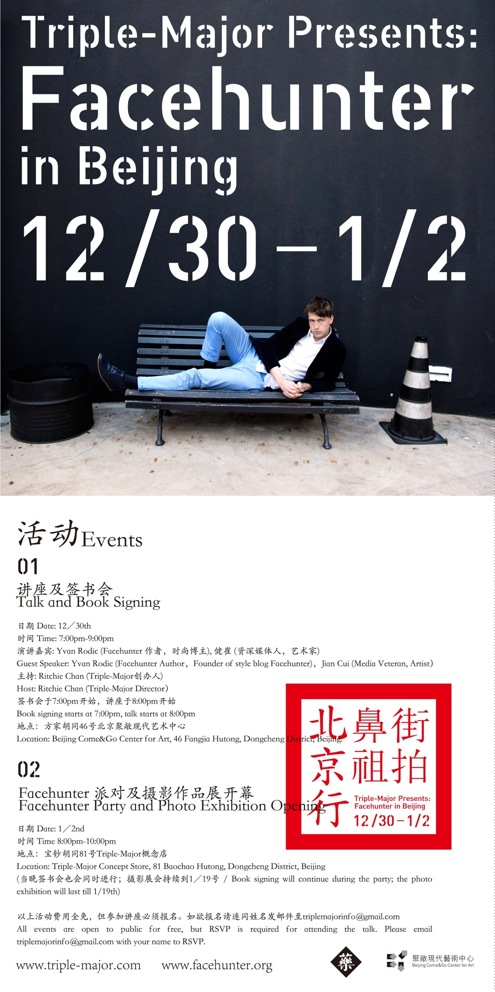 When he began in 2006, streetstyle blogging was still in its infancy: in part it is thanks to his work that it has subsequently become a phenomenon. Yvan is now commissioned by publications like GQ, NYT or Vogue to cover the fashion weeks all over the globe. On 12/30th, Rodic will hold a book signing for his new book, Facehunter, and a talk at Beijing Come&Go Center for Art For the talk. Rodic will be sharing his insights on blogging culture and global communication network with Modern Media editor and curator, Jian Cui. On 1/2nd, Rodic will have an exhibition in Triple-Major Concept Store's gallery space. Connecting with the concept store's supports for independent avant-garde designers, Yvan will be showing photos he took of emerging designers around the world. The exhibition opens on 1/2nd from 8-10pm and will continue until 1/19th.
Triple-Major is a creative studio aiming to reinvent fashion standards with a concept store in Beijing supporting avant-garde designers from around the world. The store carries both established international talents such as Fabrics Interseason, Patrik Ervell, Pelican Avenue and experimental designers Anntian, Daniel Palillo, Mundi and Rozalb de Mura to bring an alternative selection to Beijing's commercialized fashion scene. The second floor and rooftop of the store are dedicated to exhibitions in collaboration with global artists and designers, offering a bridge to overcome the boundary between art and fashion. Bringing Facehunter to Beijing is part of Triple-Major's endeavor to bring new insights and perspectives to the Chinese fashion industry and connect China's fashion scene with other parts of the world.
Events:
01: Talk and Book Signing
Date: 12/30th
Time: 7:00pm-9:00pm
Guest Speaker: Yvan Rodic (Facehunter Author,Founder of style blog Facehunter),Jian Cui (Media Veteran, Artist)
Host: Ritchie Chan (Triple-Major Director)
Book signing starts at 7:00pm, talk starts at 8:00pm
Location: Beijing Come&Go Center for Art, 46 Fangjia Hutong, Dongcheng District, Beijing
02:
Facehunter Party and Photo Exhibition Opening
Date: 1/2nd
Time 8:00pm-10:00pm
Location: Triple-Major Concept Store, 81 Baochao Hutong, Dongcheng District, Beijing
(Book signing will continue during the party; the photo exhibition will last till 1/19th)
All events are open to public for free, but RSVP is required for attending the talk. Please email triplemajorinfo@gmail.com with your name to RSVP."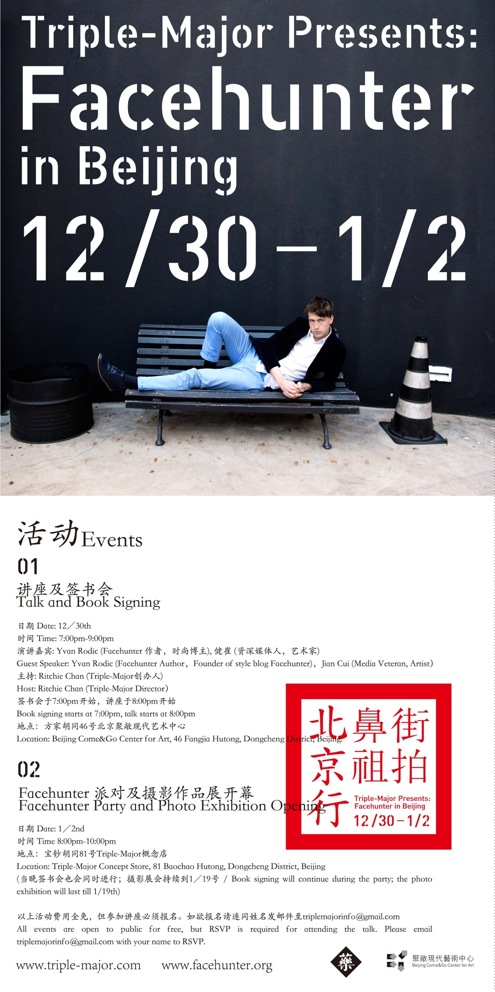 在12月30日,Yvan将与资深媒体人及艺术家健崔于北京聚敞现代艺术中心进行一次对谈,分享对博客文化及时尚通讯网络的见解。当晚Yvan同时会为他的新书Facehunter进行签书会。在1月2日,Yvan会在Triple-Major概念店内二层的画廊进行一次摄影作品展。为了呼应Triple-Major对新进前卫设计师的支持,展览将展出他拍摄的一些新进的独立设计师的作品。展览将于1月2日晚上8点到10点开幕,并一直延续到1月19日。
Triple-Major是一家致力重新思考及挑战时装规范的创意机构。其位于北京的概念店将世界各地前卫和非主流设计师首次带入中国。Triple-Major的部分服装来自知名和创新的设计师如奥地利的Fabrics Interseason,美国的Patrik Ervell,比利时的Pelican Avenue等;同时也支持不少实验性和概念性的新进设计师,如德国的Anntian, 芬兰的Daniel Palillo和冰岛的Mundi等。选择这些设计师的目的,是希望给渐趋商业化的中国时装界带来一些走在创意最前线并且独立的设计。而此次Facehunter的活动一方面是希望向中国时装界带来一些新的观点,另一方面是希望让国外时装界对中国有更进一步的了解。
活动:
01:
讲座及签书会
日期:12月30日
时间:晚上7点至9点
签书会于7:00pm开始,讲座于8:00pm开始
演讲嘉宾: Yvan Rodic (Facehunter 作者,时尚博主), 健崔 (资深媒体人,艺术家)
主持: Ritchie Chan (Triple-Major创办人)
地点:方家胡同46号北京聚敞现代艺术中心

02:
Facehunter 派对及摄影作品展开幕
日期:1月2日
时间:晚上8点至10点
地点:宝钞胡同81号Triple-Major概念店
(当晚签书会也会同时进行;摄影展会持续到1/19号)"