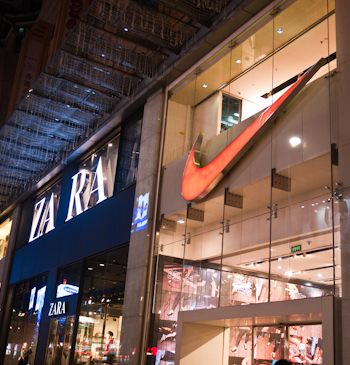 I dislike calling Zara "sartorial" but its new popularity does represent a sea change in the fashion consumption habits of Chinese. Five years ago foreign brands fell into two groups: luxury and athletic oriented. Nike, Adidas, and Reebok were on middle market shopping promenades in cities from Beijing to Chengdu. The above picture of the new Zara next to on major shopping street Wangfujing may not seem meaningful, but it represents the rapid expansion of fast-fashion that has been achieved in the last year.
Many consultants are analyzing this change from a business perspective, but from the view of style, this is even more of a revolution. For years, I have been frustrated by the preponderance of wind pants, over-sized sweatshirts and, most omnipresent, trainers. Ironically, this whole branded, rather synthetic trend emerged out of a desire to express originality. The only item that students forced to wear school uniforms could select on their own was shoes. Nike and Adidas were early market entrants. Bereft of their own style inspiration, parents often aped the trendy youngsters in their trainers. A very frumpy athletic look became acceptable and widespread.
Now that is changing. Young people today view this as an unsophisticated look and an example of dressing inappropriately in most situations off the courts. Despite all of the hate dumped on fast-fashion for wastefulness, low-quality, and copying of major brands, one thing it does offer is a chance for customers to both dress better and escape label-obsession.
No doubt Nike will continue to refine its strategy and succeed here. They will continue in collaborations with designers or introduce a Y-3 type line. It will be interesting to see how brands like Robe di Kappa do here. Association with hip-hop and skateboarding is still a winner, too. In any case, the children are still in their sweat-suit like uniforms, which really only go with trainers.