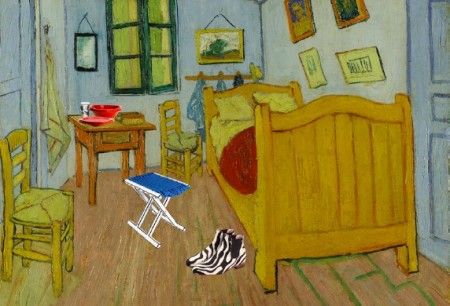 The split will go three ways between furniture, decor, and footwear.  Coming up on March three is a new pop up at the Four Seasons Hotel Beijing.   Dutch shoe brand O'Quirey has teamed up with Ubi Gallery and Studio Henny van Nistelrooy to present a sampling of Dutch design today.  The opening event will be high profile with quite an impressive list of magazines attending – everything from Robb Report to Esquire – as well as TV stations CCTV and Phoenix.  Ambassador of the Kingdom of the Netherlands, H.E. Mr. Aart Jacobi will also make an appearance.
The image that will probably stick in everybody's mind is that of the series of specially commissioned paintings that put bold O'Quirey shoes into familiar works of Van Gogh.
Here is more in Chinese on their wechat platform and you can click more to see the press release.
"Dutch design is world famous. Known for its design with a twist; it is adventurous,
singular and well thought-out. In the temporary retail space Dutch Design, set at Four Seasons Hotel Beijing you will have an opportunity to engage with Dutch Design in different facets; stylish footwear, refined home accessories and refreshing furniture!
During the month of March you will find a great selection of the exclusive and creative shoes of O'Quirey. O'Quirey is synonymous with style, quality, comfort and creativity.
It is not without a reason that O'Quirey is the first brand in the world selling quality dress shoes in all imaginable colours, including matching belts. O'Quirey shoes are designed by the Dutch brand founder Jan Palmen and are made by hand, using the finest European leathers.
To celebrate the start of the new season, Ubi Gallery has put together a selection of the best Dutch designs to highlight creative flower arrangements. On the different tables you will find stylish handmade glasses, bowls, vases and cups. For this exhibition Ubi Gallery collaborated with the famous brand Droog Design.
The pop-up will also present the Mazha folding stools by Studio Henny van Nistelrooy. Based on the traditional Chinese folding stool they have made a contemporary version in a vibrant exploration of pattern and color. Combining traditional furniture with contemporary design makes for an attractive interior accessory."