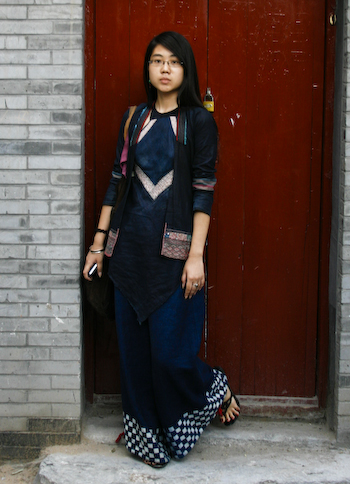 To make up for those times when there were so many men appearing on the blog, I have been focusing on the girls lately. Julia or Fan Fan is especially attractive. Beijing has droves of pretty and even beautiful girls like her, but very few attractive ones. Being attractive has more to do with spirit and taste than chromosomes.
Ethnic looks are usually irksome but this works, because of the pretty wearer, that it is head-to-toe and not just one random element, and the lack of overwhelming colors or patterns. Fashion editor of Audio Vision Magazine Fan Fan, from Tianjin, is a connoisseur of China's ethnic minority cultures, including music and handicrafts. This outfit was custom-made for her by a Dong women with a shop at Panjiayuan.
A few weeks after meeting me on the street, Fan Fan interviewed me regarding Stylites. I will try to put a link to the article soon.