Daniel Sui is a designer for Kappa in China and he appeared on Stylites before. The IHT had an interesting story on the public offering of Dongxiang, which owns the exclusive license for the Kappa brand in China. As the existence of Daniel's job proves, this Italian sportswear brand is not only produced and sold in China, but also designed here. The article speaks of over 20% annual growth of the Chinese sportswear market.
The funny thing is that I have the exact same herringbone trench coat and I was wearing it that same day. Daniel also wore it for his photo shoot with 1626 (1626 also did a shoot and interview with me that should be appearing over the next couple of weeks):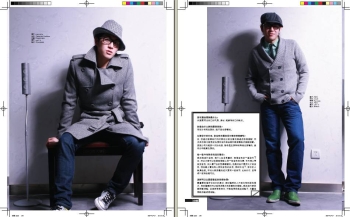 The coat is intended for export to Japan and is by some obscure brand. The cut is really slim and the styling is quite nice. I think the coat looks good and that's why I bought it despite some misgivings. The price of around USD 50 also didn't dissuade me. Unfortunately, truths like "you always get what you pay for" do seem eternal. This coat has the same key defect as many stylish pieces made in China for export to Japan as well as stylish fakes of brands like Dior Homme and Burberry Prorsum. That defect is poor quality materials. The fabric, buttons, thread, and lining are all sub-par. Even H&M and Zara offer substantially better quality. The fabric began to pill after a few wearings and the buttons are about to fall off en masse. Anyway, all I can say is that it is worth using Senli and Frye to get a durable piece that will last through the years. That said, sometimes one does want throw-away fashion – this certainly doesn't seem very ecologically friendly though.