Lane Crawford Pictures, Finally at Stylites.net
Finally my pictures from the Lane Crawford opening party can appear on stylites.net, since they have now already appeared in the December issue of Thats Beijing. Please get your own copy, to see these photos in print. The original goal for this edition of Stylites in Beijing, in That's Beijing, was to focus on the whole Financial Street area in Western Beijing. However, I found on numerous trips to the area that there was very little interesting style in the region beyond the night of the Lane Crawford opening party. Even in Seasons Place Shopping Mall, where Lane Crawford is located, on a normal day, there is no one that I want to photograph. In fact, there are very few people, owing to the location and the high prices of the stores in the mall. Perhaps this simply highlights the exclusivity of the shopping complex. I guess the name Financial Street says it all. Ibankers can certainly be stylish in a traditional way, though they tend not to chase the latest trends, but even that Saville Row set of style sensibilities has not reached Beijing. However, the international fashion elite welcoming Lane Crawford to Beijing showed an intimate knowledge of the looks and pieces that are hot now, and a talent for mixing, matching, and innovating on them creatively.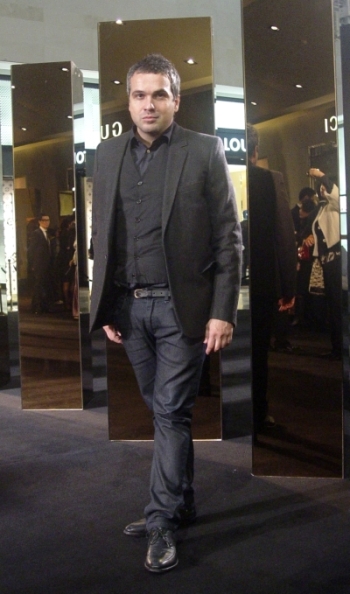 Bernie describes Beijing as "culturally rich" with consumers "ready for anything". His attitude and look both seem "ready for anything" with this singular cotton waistcoat that blends British tradition with the de-rigeur black of the fashion elite. Based in Hong Kong, Bernie is a buyer for Lane Crawford.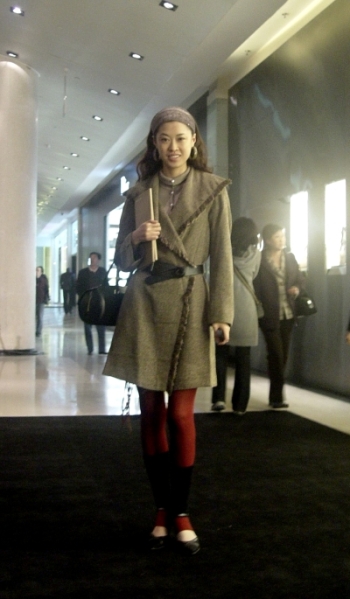 Did anyone ever say Chinese women don't have long legs. Even with this pair, the leg warmers seem to add rather than subtract from height. Fangfang is a fashion designer who owns her own shop; the coat is her own creation.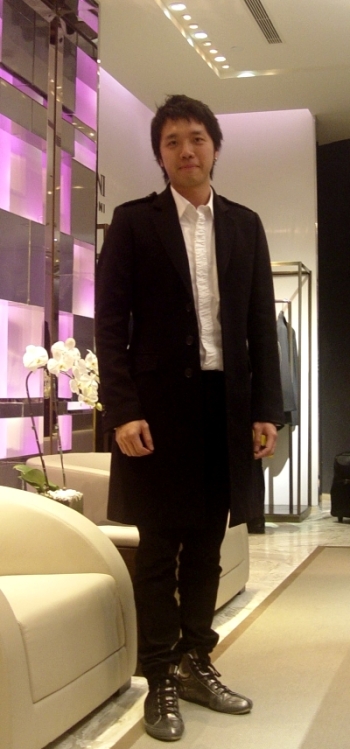 Junior buyer Jimmy says menswear at Lane Crawford will rely on key brands like Zegna and Armani, while educating on new brands with a more "romantic" spirit. His Burberry Prorsum wool/cashmere coat with braided epaulettes (RMB 27,350) encapsulates that spirit and the size 48 hanging in the store happens to be a perfect fit for me. Instead I picked up a similar, but inferior because it lacked the braided epaulettes and Italian fabric, piece in 3.3 for RMB 550.