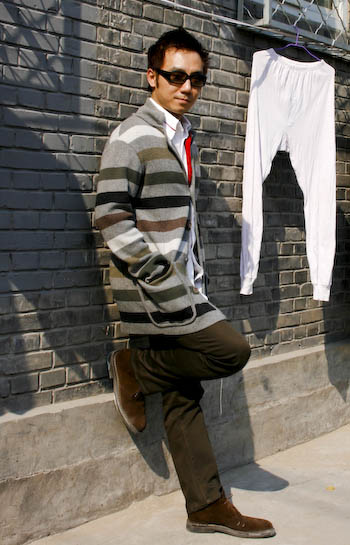 Before the hot weather started up a week ago, long cardigans were everywhere. Look also at the post below. I associate long cardigans like this with Japan and Hong Kong. It is probably no surprise that Uniqlo carries its own version.

A PR executive from Hong Kong, Patrick remains fan of Beijing after living here for eight years. He says the odd thing about Beijing, in comparison to other Asian cities, is that it does not bother trying to fashionable. Young people in Beijing have their own style throwing things together in ways that can be either disastrous or interesting but are always oblivious to the trends. I also like the color of his suede shoes and the details on his shirt, from Yohji Yamamoto.

Patrick doesn't seem like the type of guy that hangs long underwear out to dry on the side of a public street in a bar and coffee shop district. Around Nanluoguixang, those types still abound – thankfully. It adds the charm and flavor, we foreigners seek. In fact, the same people that hang their underwear out to dry publicly, also walk around the street in just their underwear. That's also charming, though I think more of an effort should be made to add personality to these inner garments if they are going to be used as outerwear. Some options might be tie-dye, little embroideries, or perhaps even some of the features of normal clothing drawn on. For pants, they could draw pockets, cuffs, and a zipper in a whole range of colors.