In Beijing for just over a month, this modelling couple – he is from Croatia and she is Canadian – were at the tennis club, wearing new items from Lacoste. On him is a polo from LACOSTE L!VE, the new youth-oriented collection that will be available in a couple months here in Beijing. This new range is more fashionable than previous Lacoste offerings, while remaining faithful to the crisp sportiness of the brand.
这对模特在北京不到两个月。他是克罗地亚人,她则来自加拿大来。他们身着LACOSTE L!VE新款。这个比以往Lacoste的设计更前卫的新系列很快即能在北京买到。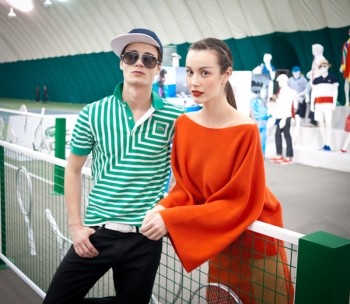 According to Lacoste, the above green polo and several other items in the collection take "inspiration from optical art, recalling the work of Victor Vas[a]rely or Daniel Buren with the coriander green ultra slim-fit polo with white striped concentric boxes radiating out around the crocodile logo or the navy blue crew-neck sweater with zig-zag white stripes. It's New Wave, mathematical and very optical." Here is more on this collection from freshnessmag.com.
根据Lacoste的介绍,"上图男模身着的绿色POLO衫是"灵感源自欧普艺术的原色设计,明星款为一件超级修身剪裁的香菜绿Polo衫,胸前环绕着鳄鱼logo,设计有向外呈发散状的白色框纹,让我们想起维克托•瓦萨雷里与达尼埃尔·布伦的关于视幻艺术的作品。这个主题所展现的这股"新浪潮",给予我们强大的视冲效果。"更多有关次系列的信息可以在freshnessmag.com找到。