Mark Werts on Showroom Shanghai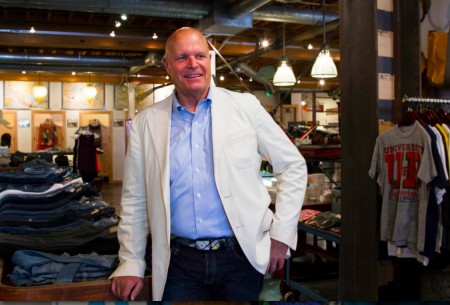 Mark Werts, the founder of American Rag Cie, one of the most interesting multi-brand retailers in the world, founded in Los Angeles in 1984, visited Shanghai recently and attended Showroom Shanghai (时堂), a rising trade fair in that city. Stylites works quite a bit with The HUB, a Hong Kong-based trade fair, but there are several events somewhat like this rising in the region to try to capture the boom in local designers, the rise of multi-brand stores, and the increasing appetite of local customers for small and medium sized foreign brands. Another interesting fair in Shanghai that is also gaining in strength is On Time, organized by Thomas Thompson and others.
I am working on a couple of different projects with Mark Werts, so I had the chance to sit down with him to get some of his reactions to Showroom Shanghai. Here is a link to the below interview in Chinese.
1. How was your experience at Showroom Shanghai?
We had a great time in Shanghai on this visit and feel that the entire environment has improved immeasurably – it's really starting to feel like an international fashion destination. The place is really very stylish. Much like Paris, New York or London, the streets around the Shanghai Fashion Week venue are filled with stylus youngsters who seem to be editors, stylists, bloggers – the same hip crowd you see everywhere vying for the attention of street style photographers. The style sense of locals has really evolved. I liked Shanghai Showroom itself very much. The crowd was really friendly and ready to talk.
2. How does compare to the trade fairs that you have been to abroad? How can we improve?
The organizers are definitely very professional. And the number of designers and the size of the event was very manageable. More of an area for coffee and meetings on-site might have been nice.
Though they were very friendly and the quality of the designs is evolving fast, it wasn't necessarily easy to get business done with these vendors. They need to have clear wholesale prices that correspond to international trade fair standards. Also the minimum order volumes are often too high given that these are not big name brands, for the most part. I understand that might be related to production issues, but if they're going to be working with international buyers starting to develop a mature local system, some of these issues need to be resolved.
I always say that you don't jump right into marriage the first time you meet. First you go on a date, then maybe another, you meet the parents, there might be a ring… I mean it's best to start with a small order and then see how things go.
Prices were also higher than I expected. I don't run a museum. I need to sell to my customers. When it comes to price and design, young designers just need to be a bit more commercially-minded. Many designers are trying to be the next Rei Kawakubo – which is fine – but with that attitude it might be hard to do sales at a trade fair.
3. Which trade fairs do you think are the best around the world?
Project Las Vegas….Pitti Uomo…. Tranoi, Paris….Maison et Objet, Paris. In Asia, I think your show and The Hub in Hong Kong are the strongest players.
4. Which brands at Showroom Shanghai did you like the most? Which brands do you think that we should add, particularly foreign brands?
I definitely found some interesting designers that I hope we can carry in our shop in Los Angeles but also in the shops that we will be opening here in China. Skin Art Series and Hui by Eran Hui stand at that point where fashion and street style meet, which I think is really popular right now. Vintage Republic is a good commercial brand that I think can sell well.
5. Will you come back next year?
We found interesting stuff and will definitely come back. I'm really excited that in the near future I will be visiting Shanghai much more frequently. Our store that will be opening next year is going to be fantastic and we will be stocking it with some of our favorite brands from around the world, but we also hope to have a very strong representation of Chinese designers.
6. Beside American Rag, which other multi-brand stores from abroad do you think should come to Showroom Shanghai next time?
The actual number of foreign visitors was still far from huge. I got the sense that Shanghai is still largely a mainland China sort of destination, though for me that is fine. It means most foreign buyers are still not discovering all the fantastic new Chinese designers. This is great for me. I'm delighted that other stores in Los Angeles don't know about these young Chinese designers yet. Focus on stores in other cities. I'm happy to have American Rag represent LA at Showroom Shanghai.