Trousers are over-rated. Their dominance in the West is only since the 16th century. In China, trousers were reserved for the cavalry until the 20th. This constricting garment was favored by the ancient Persians who mocked the Greeks for being effeminate skirt wearers. Scottish historian, A. R. Burn remarked that this was "not the last time trouser-wearing men made that mistake about kilt-wearing men." In modern times, many argue that skirts make sense for the male anatomy, if not for a Beijing winter.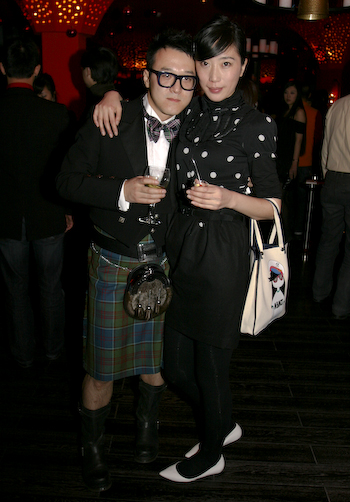 The man-skirts this past Saturday bore little resemblance to Greek uniforms worn at Thermopylae or even Chaeronea. This highlander by the name of Jin could use a few more pleats in his kilt; the feeling of voluminous scottish wool swaying in the Beijing wind must be satisfying and the heaviness of the fabric prevents any Marilyn Monroe moments. Otherwise, the completeness of this outfit is inspiring and apparently it is all "Made in Scotland" and lent by someone from a clan that lays claim to this particular tartan.Designer Ivy is very cute too. Perhaps I had had a bit much to drink, because I assumed she was French. Her having just arrived back from Paris the day before saved me from total foolishness.
Next year, Stylites will organize a competition: Who has the best outfit for the holiday season? This year, this outift would be the winner. Celebrity make-up artist and stylist Li Dongtian or Tony Li, founder of nationwide Tony Studio, is sporting a Comme des Garçons (or Yohji? The skirt seems Comme) cloak. Actually I'm not sure if "cloak" is the right word as capes and cloaks are supposed to be sleeveless and this one does seem to have sleeve holes. The green stockings are masterful. On the first weekend of December, he set the bar pretty high. Are his outfits going to get better and better over the next twelve or so days? Can I get his itinerary?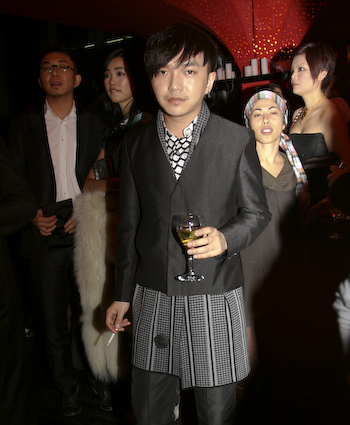 Even curmudgeons who have been doubting the skirt thing must confess that this outift is original and sophisticated. The skirt on designer Xander Zhou appears to be Viktor and Rolf. Find more about Xander at Time Out and CRI.Engliish.com.
Almost no element of this outfit is strictly conventional, which makes it even more notable that the look works well. Perhaps I'm going out on a limb by lavishing praise here and maybe this fellow has just copied a runway look that I failed to notice. I do find it to be a fresh but pleasing look.
As for skirts in general, most men may not be able to achieve the pleasing results that we see here. These gentlemen are clearly addicted to fashion, have the resources needed to procure skirts expressly designed to look good on men, jobs without conventional restrictions on dress, and are slim enough to worry little about showing off their legs. The average Zhou or Joe or Nels might be awkward in these styles. Still, I hope more men choose to wear skirts in the future.