Men's Photos from Marciano Opening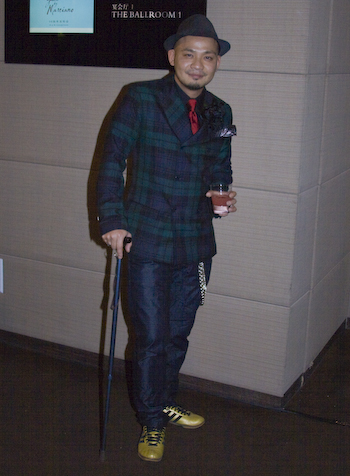 Here other photos of men from the Marciano by Guess that should have been posted earlier. My mission, for a major men's magazine about to start up, was to find the stylish dressed men. Being on crutches presently made photography a difficult proposition.
This is Toni Mak, Regional Visual Merchanising Manager for Guess, Asia Limited. He is based in HOng Kong. Every single item except for the cane was purchased at Guess.
From Sweden, Ali Nosrati is the Product Manager for the Dowdy fourhundred, a company that makes leather bags for men. Ali is holding one of these bags. The "dowdy" refers to people who are unfashionable and unattractive, while "the fourhundred" refers to society's elite and the number of each of their products that is produced. Check the website for more. Also of interest to me was that Ali is of entirely Iranian descent. My father is 100% Swedish and my mother's family is from Iran.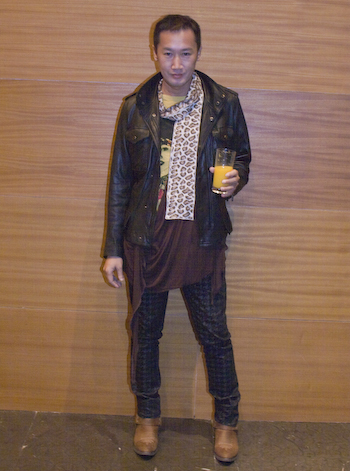 To wear a leopard-print scarf with confidence, I would probably have to drink more than orange juice. This is quite a look on this professional stylist though.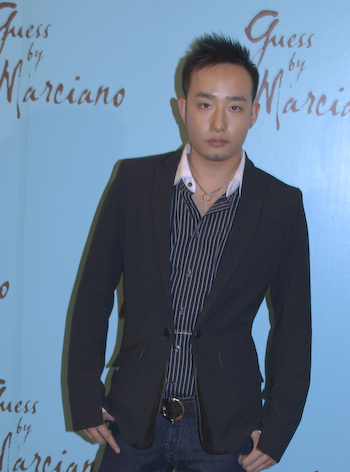 Raymond is the Senior Manager of BD for P1.cn, a social netorking website that also has street fashion pictures. It is an interesting sport coat with a chain closure and leather trim on the quarters.