Men's Style Column Moves to China International Business
Trouser Press, my men's style column that appeared for nearly two years in The Beijinger (formerly known as That's BJ), has migrated to China International Business (CIB). The column, now a centerpiece of the "executive living" section of CIB, will focus on the style needs of businessmen who work and live in China. My column for the January issue covers color matching in formal ensembles. The February column tells which ties it behooves every businessman to have in his collection.
Also in the February issue is my overview of the tie industry in Shengzhou, Zhejiang, which I visited last month. Though few Westerners have heard of it, Shengzhou produces well over 200 million ties annually, at least three-quarters of the global total. Most of these are for export. My mission was to find a factory that could produce limited runs of ties for sale at Senli and Frye, here in Beijing.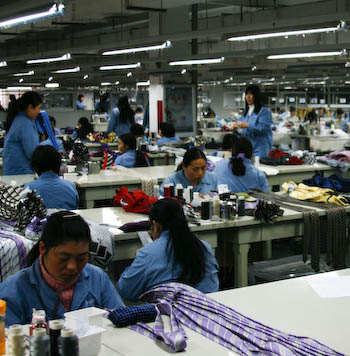 These workers are at Babei, the largest tie producer in Shengzhou and probably the world. Working conditions seemed pretty good in all of the factories I visited. Later this month, I will post the article with additional analysis and pictures.
CIB is available in Beijing at Chaterhouse Booktraders at the Place, the Bookworm and Cuckoo Bookshop in the China World Trade Center and in Shanghai at Chaterhouse Booktraders in Super Brand Mall, Shanghai Centre, and Shanghai Times Square.