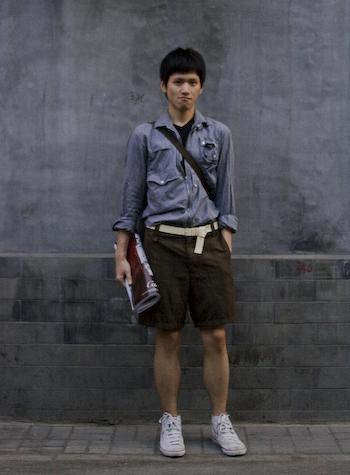 From Changsha, Wind Lee is a freelance stylish and merchandizer seeking new assignments. He used to work for Jack and Jones, but he doesn't wear their clothes, which he thinks are too boring, preferring pieces from more avant-garde labels like the Dries Van Noten casual jacket purchased in New Zealand that he is wearing in the picture.
You may have noticed that recently the number of men appearing on the blog has been growing. Beijing men are not known for their refined taste or genius in replicating the latest trends from Milan and Paris. Though men's style is governed by a million little rules of taste, cut, and fit, most men here are ignorant of these guidelines or choose to ignore them. Foreigners arriving in Beijing happily adopt a laid-back or lazy style of dress since most of their local colleagues could care less. This means there is ample aesthetic trash on the landscape, which in the case of men is usually not even entertaining.
The positive side of this is a sort of freedom to experiment for those who are interested in style and wish to be creative. The need to look good remains for women in Beijing, while men face little pressure. Money and status tend to be the main attractions a man can offer to the opposite sex, here even more than in the West. For men, dressing well is more of a hobby; the men who dress interestingly sometimes look like they are having more fun than the women, since society requires that women have some sort of style. The well-dressed or quirky men also stand-out a great deal more from the gray and navy blue crowd than the women do.