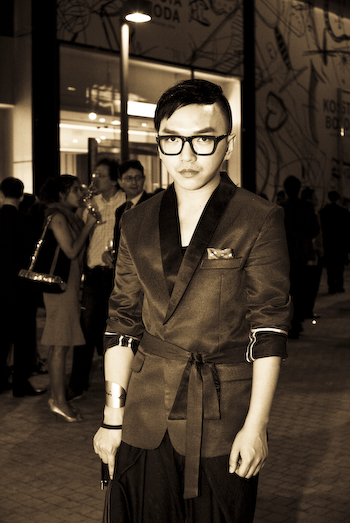 Designer Xander Zhou (周翔宇) thought the agnès b. show as good. His avant-garde designs blur gender, geographic, and subcultural lines in startling ways, but it is rare that I see a piece from him that I can imagine on my own back.
设计师周翔宇觉得agnès b.的时装秀不错。他的前卫设计以惊人的方式模糊了性别,地域,以及亚文化的线条,但少见的是这次我看他穿的那件无衬 里的现代感十足的真丝男装便服我便想像自己穿上是什么样子。
This is the first time I've seen him and thought "I must have that piece", in this case an unlined silk piece that is a perfectly modernized smoking jacket. His lines Mr. X by Xander Zhou and Xander Zhou on Demand have now been featured in several Western fashion magazines including Surface. He is about to take a month-long sabbatical in which he will be travelling to a number of exotic spots. Interestingly, there is an article in the May issue of Wallpaper about creative dynamos taking time off to wind down.
这是第一次 我见他会有"我一定要有那件衣服"的感觉。他的个人品牌Mr. X by Xander Zhou(X先生by周翔宇) 以及 Xander Zhou on Demand(周翔宇高级定制)现在已被几个包括 Surface杂志的西方时尚杂志收录了。他即将给自己放一个月的长假出国旅行。有趣的是,在5月的Wallpaper杂志上有篇关于有创意的精力充沛的人需要时间休息的文章。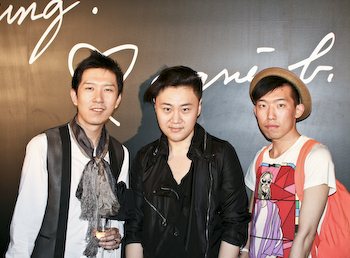 Here is Justin from NC.Style and two of his friends.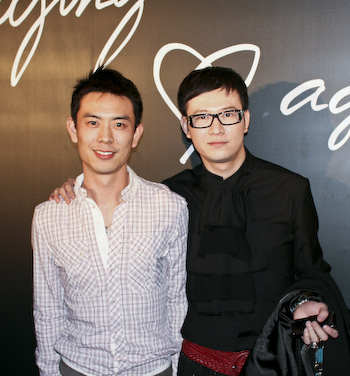 Link, named for the character in Zelda, and Even were out. It's actually hard to go to any party without running into Even, who is a Sales Director and personal shopper. Even was proclaiming all of the various guys around to be girls. I asked him if I was a girl and he said I was. I was tickled pink.
Link 和 Even也在。Even是一个销售总监也是个购物达人,实在是 很难说哪次聚会看不见他。Even宣称周围的各种不同的家伙们都必须是 女生。我问他那我算不算个女生,他说我是。哈哈。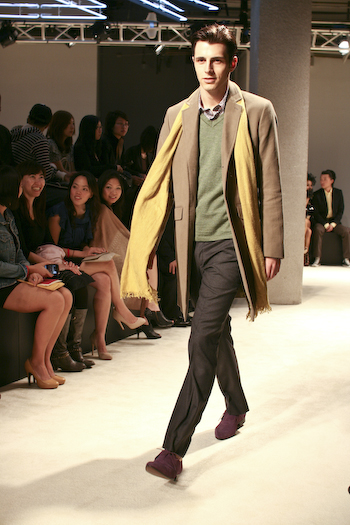 I could imagine myself in this outfit.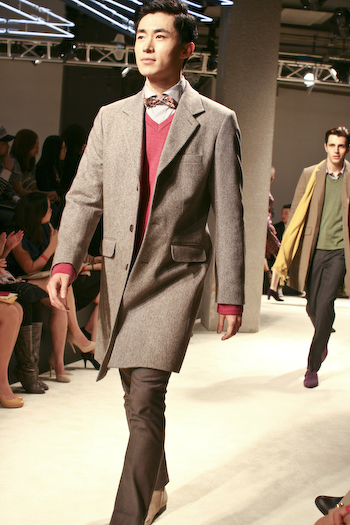 Or this one actually. I guess I'm not that creative.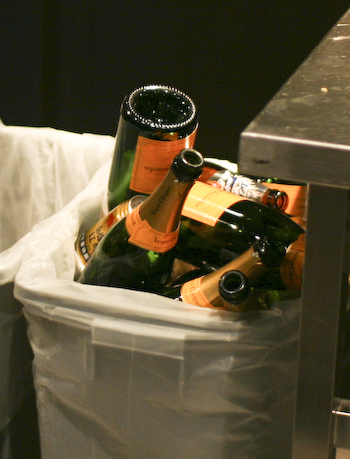 agnès b. was quite generous with the adult beverages. The pre-show cocktail party featured Moët with raspberries and it was Veuve for the after party. Credit also goes to Richard Lu, the organizer for the event.