New Stylites Stomping Ground?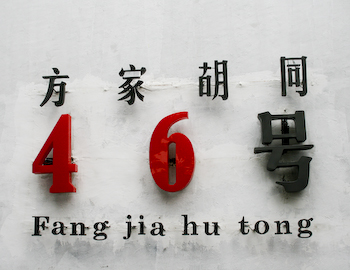 Many comment that Stylites seems focused on just a few areas of Beijing: Nanluoguxiang, Sanlitun, and occasionally Xidan. Beijing really does lack public spaces frequented by stylish people. The city is spread-out and, sadly, car-addicted; those with the leisure or funds usually a minimum requirement for style rarely walk anyway. So we are very happy to announce a new area in which we hope to find more and more fascinating individuals to photograph and profile.
The Hutong Art Zone centered around No. 46 Fangjia Hutong is Dongcheng District's answer to 798. It houses art galleries, performance centers, fashion boutiques, and cafés. Xinhua gives the details. Massive Chaoyang District has 798, Caochangdi, and a growing number of other highly commercialized art districts. What Chaoyang lacks is the charm of Beijing's old city. More compact than Chaoyang's art districts, 46 Fangjia Hutong is set in a leafy, quiet and historic neighborhood right in the middle of the old city. The Dongcheng District government is committed to encouraging creative industries in a bid to compete against the overwhelming dominance enjoyed by Chaoyang District in this field.