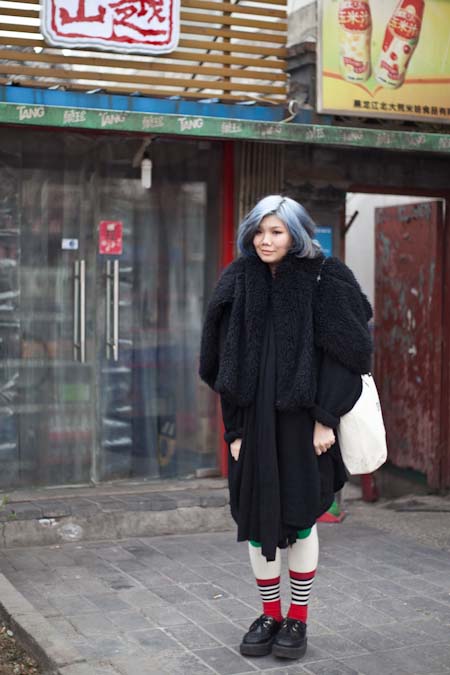 Photos and Interviews by Suzy
Summer is the season in Beijing that I especially loath, but cold weather has really endured this year. I keep having to turn the heat back on in my hutong. In offices and most high-rises, the heat has been off since mid March. The frigid temperatures indoors mean the tweed sport coats have had ample play recently. Supposedly, there is yet another colf front coming in tomorrow. All of this probably means that it will be an even more sweltering summer than normal. Temperatures above 30 degrees will probably start next Monday.
I kept thinking that these images from over the winter would not really fit given that it was already late in the year. Perhaps this most violent and eternal of winters warrants this reprisal that includes all the photos from the last winter that were not posted here. So below are some profiles and photos from the snowiest, longest winter in all of my years in Beijing. Suzy talked to some of the hip young ladies that give Beijing its character and bohemian charm.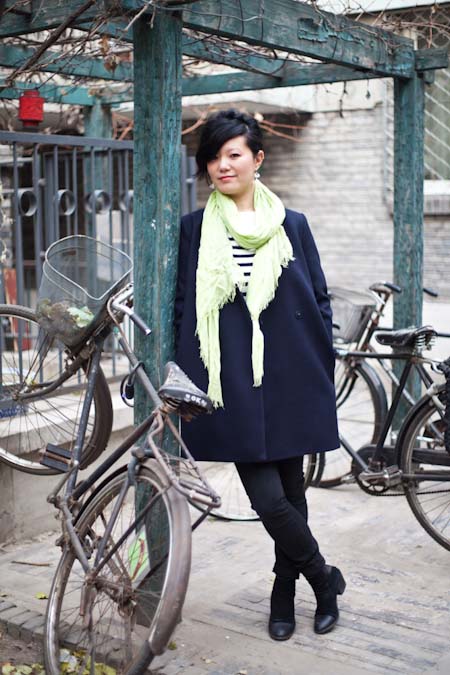 Name: Hannah Ren
Age: 32
Job: Jewelry designer & entrepreneur
Style Icon: Rooney Mara
Favorite spot in Beijing: I love going to Cafe Alba for a coffee, because its interior is really authentic and food is rather good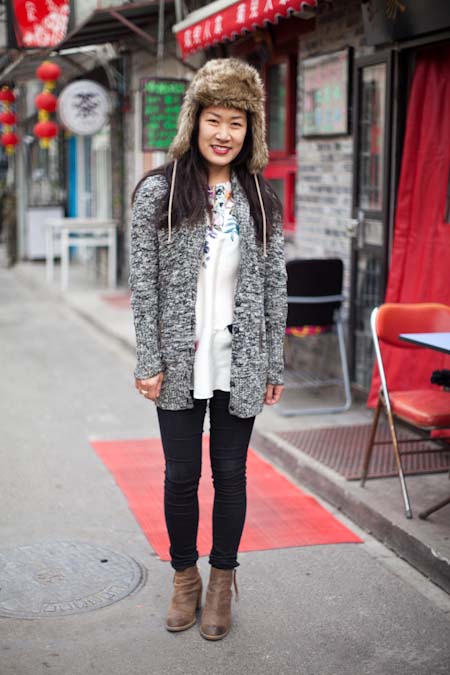 Name: Ester Wang
Age: 30
Job: freelance writer
Style Icon: It's a cliche, but Kate Moss. She always looks so fresh.
Last movie that made me cry: "How to Survive a Plague," a documentary about the AIDS crisis in New York City in the 80s and 90s.
Song I can't get out of my head: The Boys Noize remix of Sebastien Tellier's "L'amour et La Violence." So good!
My perfect Sunday in Beijing: Any Sunday that starts off with a big mug of coffee, continues with some snuggling on a couch with a good book, and ends with a dinner party with friends.
Favorite scent: Nothing beats the smell of freshly baked bread!
Best place for after work drinks: Mai Bar on Beiluoguxiang – it has great cocktails! And the owners are very sweet.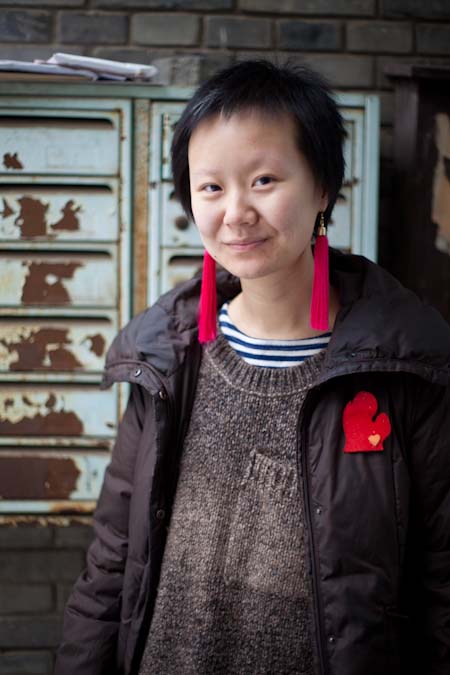 Name: Ami Li
Age: 24
Job: Music Promoter
Style icon: Jean Seberg, Cat Marnell
Secret Beijing spot: Lucky Man Bar. I don't feel bad about revealing it because they are closing in 6 months! So sad.
Best clothing shop: Dong Liang.
Best place for live music: 2 Kolegas (local acts) & Yugong Yishan (foreign acts)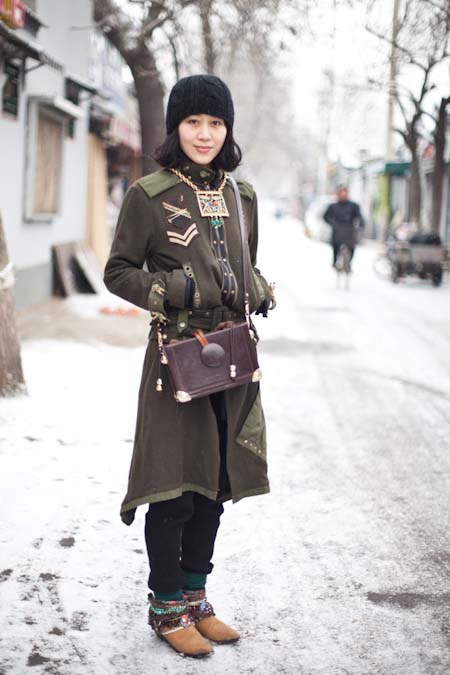 Name: LIU Meng Yao
Age: 29
Style icon: My friend Eva, a fashion buyer
Clothing Shop: MEGA MEGA vintage
Clothing Brand: JNBY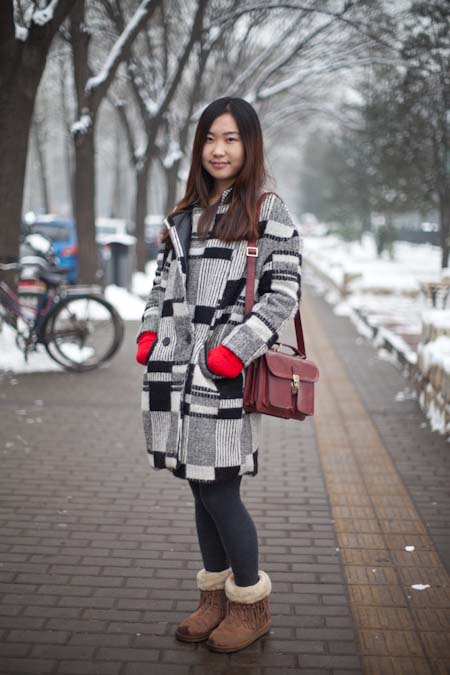 Name: Su Yun
Age: 23
Job: student
Last movie that made me cry: "Amour" (Michael Haneke 2012)
Favorite shops: Mega Mega Vintage & Zara
Best place for lazy afternoons: Sculpting in Time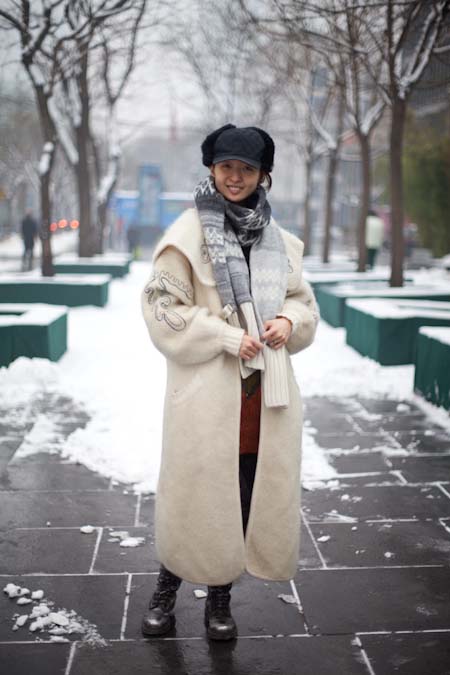 Name: Zhang Yinan
Age: 25
Job: Writer & Blogger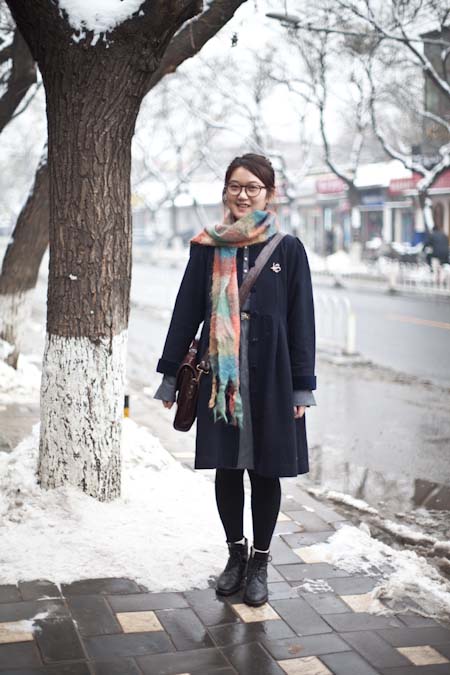 Name: Man Han Zhao
Age: 20
Job: Finance student
Style icon: Emma Roberts
Last movie that made me cry: Life of Pi
Clothing Shop: Old News & Mega Mega Vintage
Best place for lazy afternoons: Broadway Cinemas in Wan Guo Cheng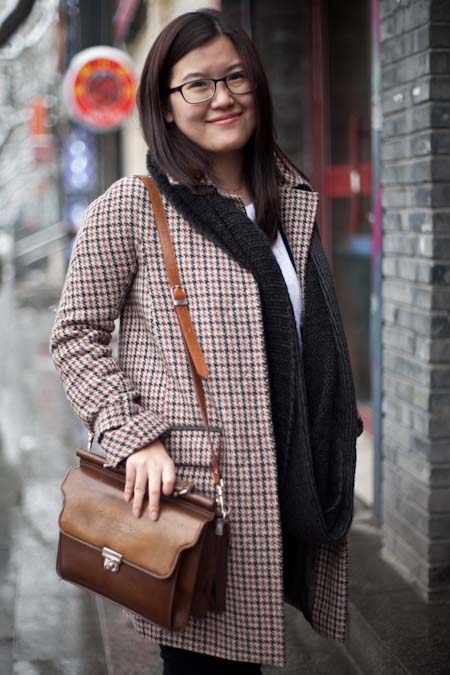 Name: Zhao Peijin
Age: 22
Job: Law Student
Style icon: Sienna Miller
Favorite Shops: Vintage Shops in Gulou area, Roro-Zhang Jewelry Design, Old-News