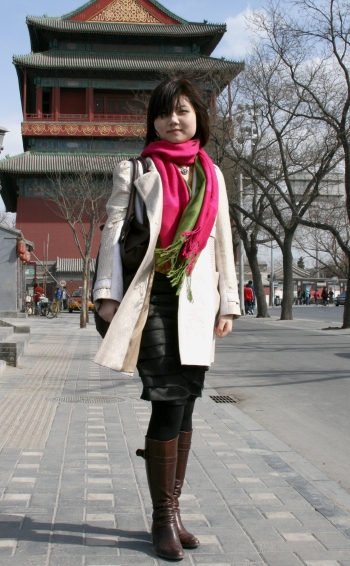 I dislike surprises and like when people and things are as I expect them to be. She is a Shanghai girl and this is how I would expect a "Shanghai girl in Beijing" to look.
Recently, many journalists have asked me whether Beijing has a distinct style and how I would describe it. I see the style of the city as evolving rather than having entirely crystalized. The young people I photograph, or at least the ones whose looks I prefer, are definitely pursuing a specific style. Speaking very generally, Beijing shoots for a more rugged, bohemian and creative style, whereas Shanghai aims to be sophisticated, chic, and worldly. This reflects this overall spirit of the two cities. Shanghai and Beijing are perpetually compared and have a competitive relationship, though what they offer is really completely different.
我不喜欢感觉惊讶, 而是希望人和事都跟我想象的一样.她是个上海女孩,而且跟我想象中的"上海女孩在北京"的样子差不多.
最近,很多记者问我北京是否有自己独特的风格,也想要我形容这个风格是什么样的.我觉得这个城市的风格是在不停发展的,而不是已经完全明确的.我拍的年轻人(至少是我比较喜欢他们风格的那些),肯定是在追求一个特殊的风格.总的来讲,北京追求的是个相对粗犷的、波希米亚的、有创意的风格。而上海是想要更儒雅的、时髦的、国际化的风格。从这个方面也反映了两个城市各自的整体精神。尽管北京和上海提供给大家的是完全不一样的东西,但这两个城市一直在被比较,有着竞争关系。
If Chinese does not appear clearly, in "View" go to "Character Encoding" and select "Unicode".