Shengzhou: The World's Tie Capital
Shengzhou, Zhejiang, produces well over 200 million ties annually – almost all of China's total production and at least three-quarters of the global total. Almost every major Western retailer, from H&M and Next to Ted Baker and Sean John, Walmart to Primark, sources almost the entirety of their ties from this city. Read more in my article from the February issue of China International Business. Here are some more photos that I was lucky to get during my visits to the factories.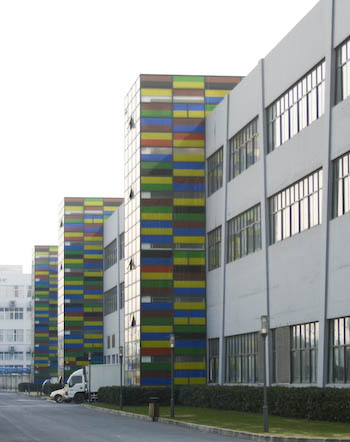 Babei, the largest tie producer in Shengzhou and most likely the world, is also the only factory with an exterior that vaguely suggests the colors of ties. Over 70% of the 20 million ties Babei makes every year are exported.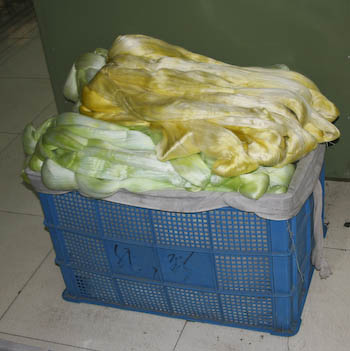 Raw silk comes from Sichuan, Jiangsu and other provinces. It comes in a few basic colors. Dyeing – the only part of tie production that has a serious negative impact on the environment – usually occurs on the outskirts of Shengzhou.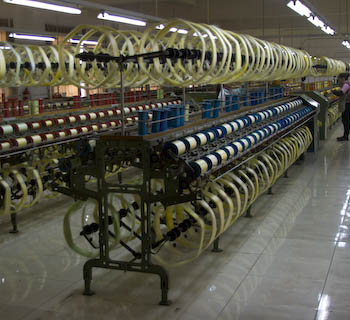 The largest factories in Shengzhou have spinning machines that rotate at high speed 24 hours a day.
The computer-controlled looms create the fabric that are used to make ties. Just over a decade ago, there were only about ten of these machines in Shengzhou and now there are over a thousand. Babei's factory has over a hundred – more than entire city of Como, Italy's tie center. James Kynge, tells the story of Como's fall and Shengzhou's rise in his book, China Shakes the World.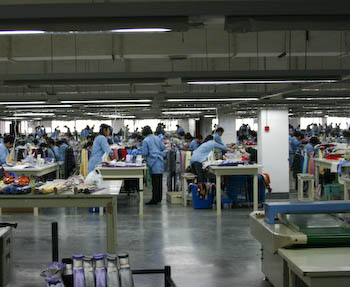 Working conditions seemed quite good in the tie factories I saw. On this Babei's factory floor, I saw ties from the following brands: Donald Trump, Sean John, Chaps, Austin Reed, Counta Mara, Tasso Elba, C&A, Zara, H&M, Marks and Spencer and Target. There were many other brands that I had not seen before.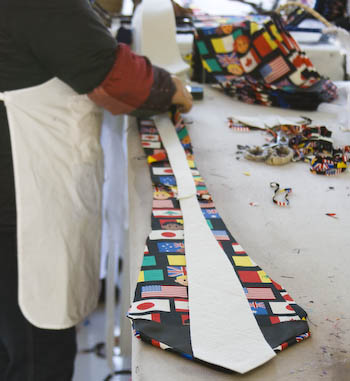 This a large order for a children's hospital in the United States. Most ties made in Shengzhou use polyester interlinings of the type seen here. Wool is much more expensive, but is better for the best ties.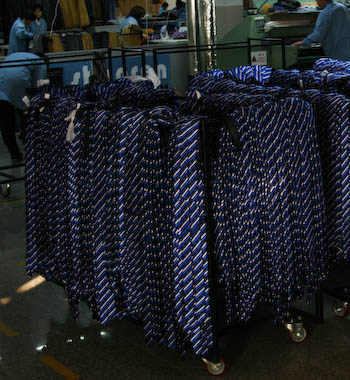 Here is a just completed order for China Mobile, the world's largest mobile phone operator ranked by number of subscribers, with 415 million customers. With 111,998 staff in China, one can see why this is a good client.
The producers of Shengzhou only want to do volume. There is little profit to be had from small orders that demand high quality. Thus, my mission to Shengzhou was not highly successful. The goal had been to find a factory willing to produce ties for Senli and Frye. Strangly enough we have chosen to sell ties that are made in the United States, the Hickey Style line.