Silk Tweed Coat from Le Divan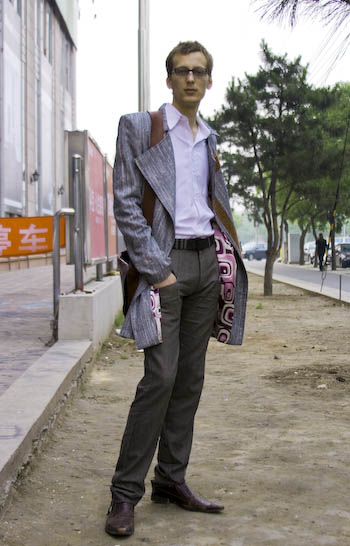 If you aren't a fan of details, you may not be drawn to the designs of Le Divan, based near Xinjiekou in West-Central Beijing. Those who fear new aesthetic norms, imaginative and quirky uses of fabric, and dressing with a sense of drama might also head elsewhere. So, yes, trend-followers who hit Zara seasonally or die-hard preppies, head-to-toe in Brooks Brothers, will probably not end up wearing this coat. On the other hand, the pure lines and quality natural fabrics make most Le Divan pieces "integratable" in a more traditional wardrobe.
Confidently donning an entire ensemble from their studio is a challenge for which few beyond Aurelien Lecour and Tony Hwa, co-founder of Le Divan, have the stylistic panache or slim physique. Le Divan is fortunate that in one area, at least, they can cut costs: with Aurelien on the team, they shouldn't be needing too many extra models. Nonetheless, I would be happy to offer myself, and be paid in kind – perhaps in the form of this coat, if they start needing the beefier, swarthier types.
When it comes to materials, however, little expense is spared. Most of the fabric is imported from Italy or Japan, but they have also managed to locate some of the best Chinese-made fabrics I have seen. None of the usual cheesy, cheapo polyesters or coarse cottons and linens can be found at Le Divan. The fabric of this coat is a gorgeously nubby 100% silk tweed from Shandong.
The lining is a silk we're more used to, but they have clearly found sources for interesting patterns that have evaded me thus far. Their garments all feature unique silk linings. They even include the linings in the pockets and other areas. For many people having clothing made in China, the lining is the most fun part, a chance for expressiveness. Silk breathes better and feels nicer than the polyester in most tailor-made and OTR cheap suits, though most silks are not as durable as high quality bemberg rayon. In China, bemberg actually costs more than many silks, though it hardly exists in patterns or interesting colors.
Aurelien and Tony are also creating a line of shoes and bags, of which this is a prototype.
This is just a preview on Le Divan. I will cover the fabrics and designs, plans for the future, and the unique business model more thoroughly in the next couple of weeks.
The address of Le Divan is Xinjiekou Nan Dajie, Baihuashen Chu, 25 (西城区 新街口大街 百花深处25号) and the phone number is (+86) 10 66 16 17 59. Their website is www.ledivanstudio.com.