With the opening of the Mandarin Oriental Guangzhou, designer Tony Chi (an interview with Mr. Chi will be here soon) creates an elegant, new definition of China Modern sure to exert a lasting influence on hotel design.
"Inoffensive" barely sounds like praise. Akin to "lukewarm" and "conventional", most designers would prefer to hear their work called "daring" or "challenging". Some will always be offended by a groundbreaking design, while innovation that pleases all seems almost like an oxymoron and bound to be boring. To create something completely new that is in complete good taste seems near impossible.
And yet with his design for the Mandarin Oriental Guangzhou, star designer New York-based Tony Chi will make just about everyone feel comfortable and at peace. Surprising that far from traditionalist, his work here very fresh and sure to influence hotel design throughout China. Never overt or gratuitous, Chinese culture seeps from the walls of all 233 rooms, 30 suites, 24 luxury serviced apartments and the four restaurants. Always serving a genuine function, Chinese design elements are deployed thoughtfully and with profound meaning. Guest room lay-out is inspired by traditional courtyard residences, meaning the various chambers adjoin an inner corridor that flows to the outer door. The private is discreetly separately from the public even in the standard rooms.
Unlike many properties in China that look good for a few years but then rapidly fade, the Guangzhou Mandarin Oriental will age well. Woods, lacquers, skins, and fabrics will get better with time and corners were not seem cut during construction. Passing trends are not heeded, though the emphasis on quality materials that need not be replaced every half-decade fits well with our current interest in sustainability. Owner Swire has invested with their sights set on the long-term.
Sipping champagne in the Oriental Club, one might be forgiven for preferring the view in – of linen upholstered chairs, leather couches and beautiful art books – to the view out, which is of a somewhat grim cityscape, the likes of which could be found in the center of any Chinese metropolis. Out there one has to behold all the clutter, noise, and poor color matching that would never be allowed in a Mandarin Oriental.
Indeed, guests have little incentive to leave. Local friends can be invited for afternoon tea and dim sum at Taikoo Lounge, cigars and cocktails at The Loft, or pastries and hand-painted chocolate at the Mandarin Cake Shop. Restaurants options abound and the creative presentation and organic produce of Ebony make it one of the best Western restaurants in town. Right next door is one of the best malls in China: Taikoo place, with flagships of all the usual luxury suspects plus some unique local players like lifestyle boutique, Fangsuo.
One might wonder why the Mandarin Oriental Guangzhou lacks its own lifestyle brand with a full array of products that reflect the color scheme and style ethos of the hotel. Guests frequently covet the beautifully crafted leather boxes, magnifying glasses, wooden picture frames, porcelain, and even the linen ties of the staff – all custom made for the hotel. Good taste like this is surprisingly rare in this world. Many designers strive to startle and garner media attention, but Tony has revolutionized in a more elegant, lasting way by giving us a new classic.
I was also quite impressed by the uniforms.  The colors and textures were much more interesting than the black and white found in most hotels.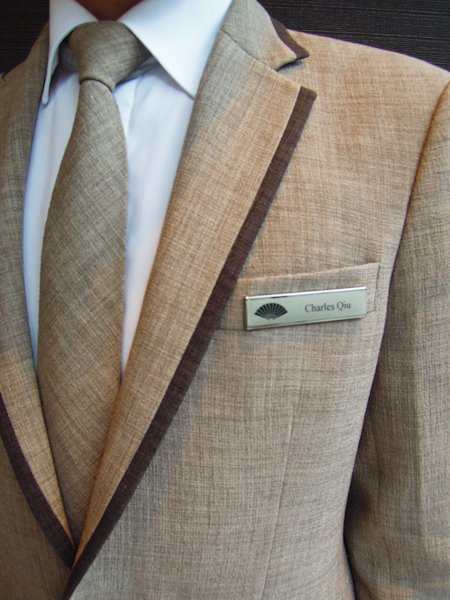 Nick Wooster (in the post below) likes when suits and ties are of the same fabric.  In this case it was a linen/wool blend.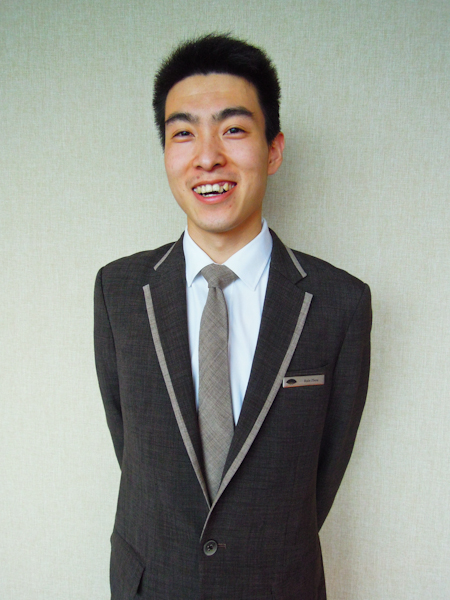 This fellow from the executive lounge got a nice dimple in his tie.  He was also wearing nice brogues.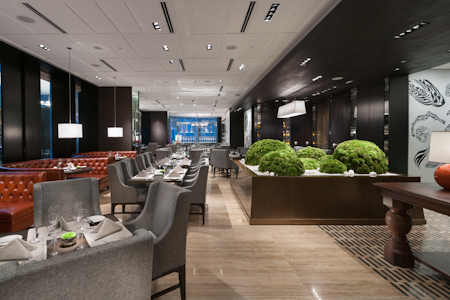 Ebony is the place for fine steaks, seafood and the best hamburger in town.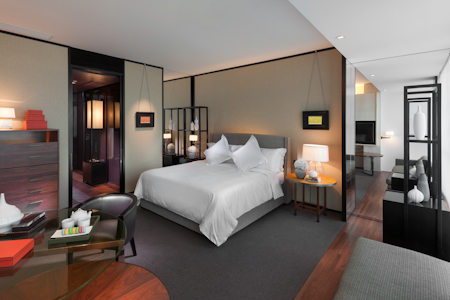 One wouldn't be surprised if guests hire Tony Chi to design their next home after a stay here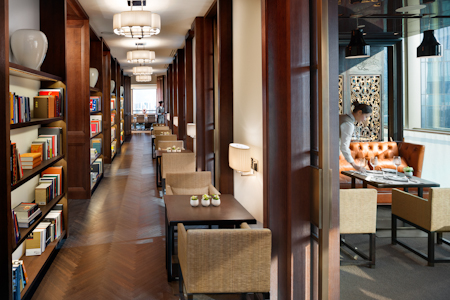 Earth tones never looks as good as in the Oriental Club


On the terrace, it's hard to believe that this is still in the middle of a city.
The photos of people are by me.  The photos of the location come from the Mandarin Oriental Guangzhou.