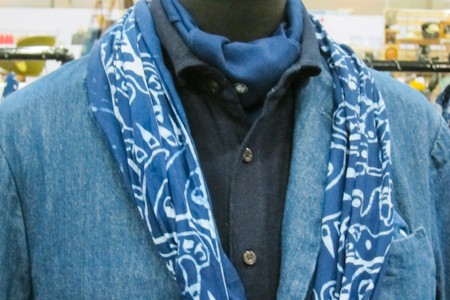 The Denim Dandy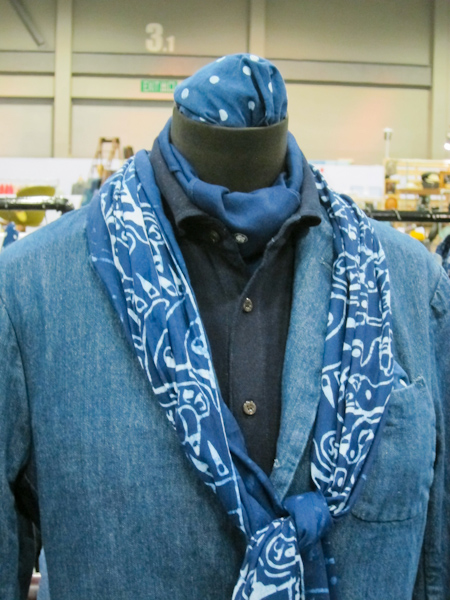 There are not a huge number of options when it comes to menswear, so it is rare for truly something new to come along. Lapel widths and fits change all the time, but entirely new products or modes of dressing are not frequently witnessed. The last two decades have seen a revolution in premium denim that qualifies as an entirely new category of dressing. within the world of premium denim, perhaps the most interesting type of product is probably Japanese denim made on traditional American looms. Japanese denim is now the holy grail for jeans-lovers and this is probably going to change much in the near future since this is more about inherent quality than any particular style or fashion trend. Mr. Hidehiko Yamane, who created the Evisu brand in 1991, is widely viewed as a pioneer in this field.
Evisu was at the HUB in Hong Kong, but so was the latest project by Mr. Yamane, an eponymous brand focusing on a more sartorial, almost dandyish style of denim. The Yamane product line that ties together several recent movements in men's style for a result that I would define as sartorial denim or "the Denim Dandy". Recently, we have gone through Mad Men, the revival of enthusiasm for unstructured Neapolitan style, and the proliferation of e-gents on sites like Styleforum. Concurrently, other style tribes have sought ever more rarefied denim and streetwear. Yamane fuses these impulses and answers the need that the mainstream man has for items that make him look formal enough and hip enough but do not feel as restricted or difficult to maintain as classic menswear. Despite the recent revival of formality and all the rules of dressing, there remains an abiding desire for casualness. Yamane offers a great way to do it. I talked to Yosumi Yuji, the head of the Yamane showroom in Hong Kong, on the sidelines of the HUB.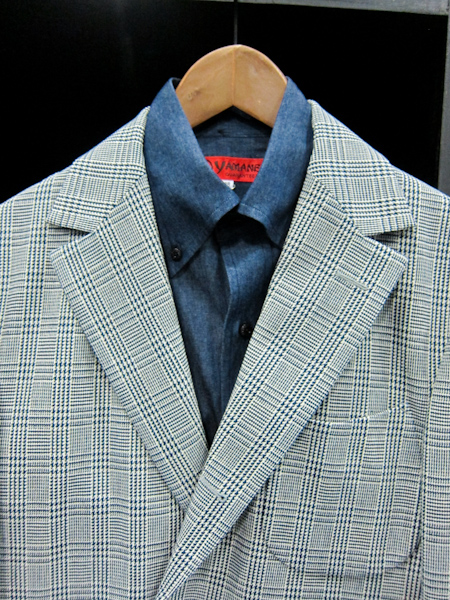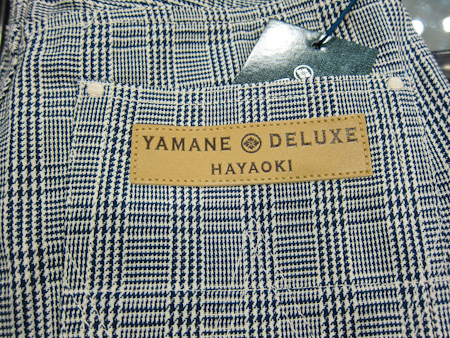 NF: Where did the inspiration for this new type of denim dandy come from?
YY: Mr. Yamane initially worked for a men's tailor shop and for him styling is very important. So it is a natural thing that Mr. Yamane is proposing the Indigo Tailoring idea to customers. We are not followers of the cowboy style followers at all! We are very unique and do not see denim dandies who look like us in Japan.
NF: Does Mr. Yamane dress more like a denim dandy or in more casual fashion most of the time?
YY: It depends on the occasion. He dresses more like a denim dandy recently since he has been proposing the "Uncasual look with indigo"
and he opened his restaurant, Maison Noire in Biwako Lake, Japan.
NF: Aside from denim, what are some of the other fabrics that you use and are there new treatments?
Natural fibers mainly including wool fabrics like in traditional men's tailoring. For the Indigo tailoring idea, we specially developed mens tailoring patterned fabrics in indigo yarns such as houndstooth, tattersall checks, all in cotton. Our silk cotton denim is really gorgeous.
YY: Describe some other ways in which the brand innovates.
Mr. Yamane wants to create a men's tailor shop in his heart this shows in the characteristic styles using indigo. He also pays attention not only to style and the look but also to quality and details in simplicity.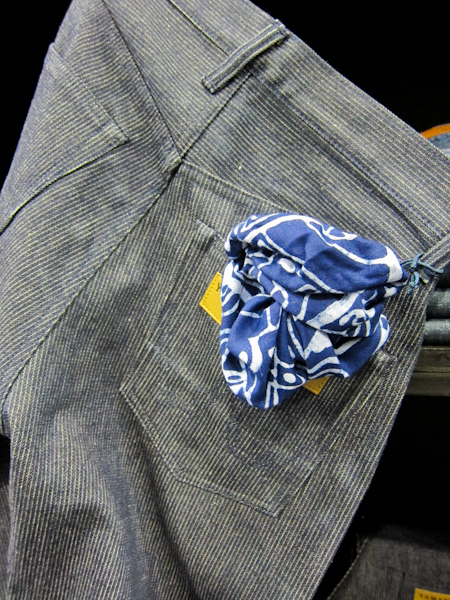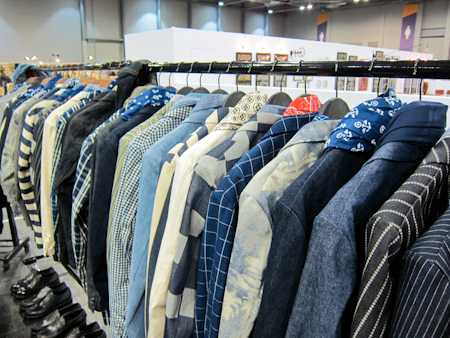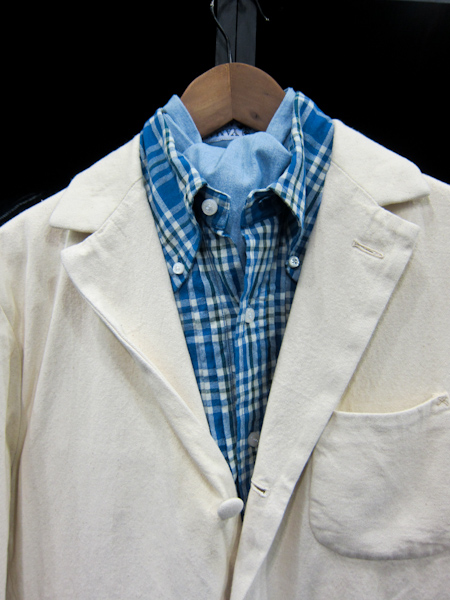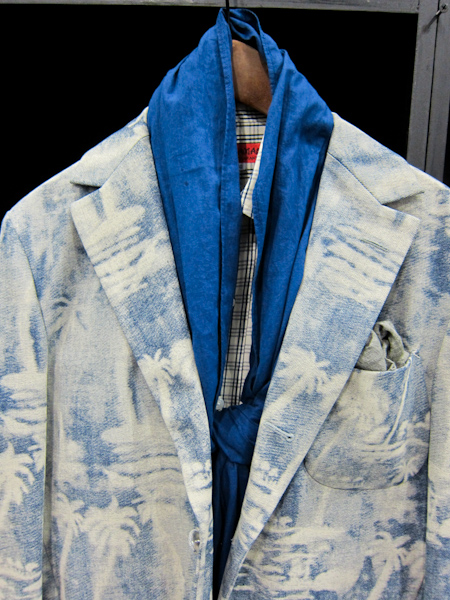 And now for some questions more related to China:
NF: What are some of your hopes and concerns about entering the China market?
YY: It is a great opportunity to introduce our fantastic quality and styles with details to potential customers in the China market.
NF: What insights did The HUB give you about your target group here in China and how the market is evolving?
YY: We heard at The HUB that there are gaps between the luxury market and fast fashion everywhere now. Customers are looking for real quality and real brands, not copied ones. So we believe our particular style and uniqueness can be accepted in the market with a right timing.
NF: Have you changed it in any way or created products that suit the needs of Chinese consumers?
YY: Yes and No. This time at The HUB we showed the Indigo Tailoring concept to show the style and the coordination.
And everything is washable. This is perfect for the weather not only in Japan but also in Asia. People see indigo as casual wear, but
it can be casual but it can be more formal as well as long as you do good styling and coordination.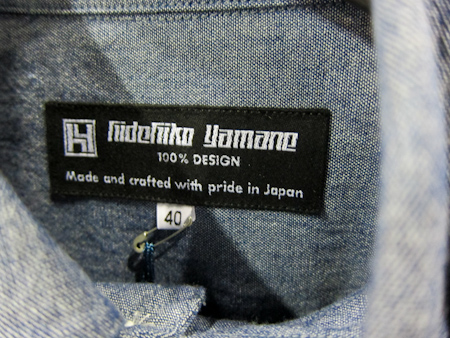 Most of the items are made in Japan.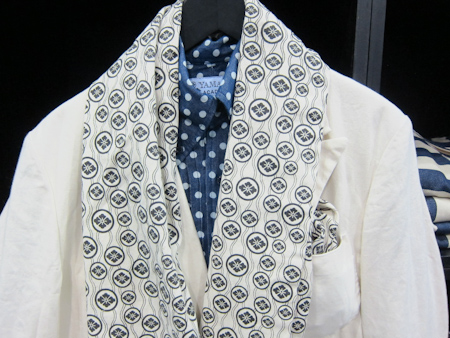 Several scarves and pocket squares bare Mr. Yamane's traditional family crest.