The Front Row at Simon Gao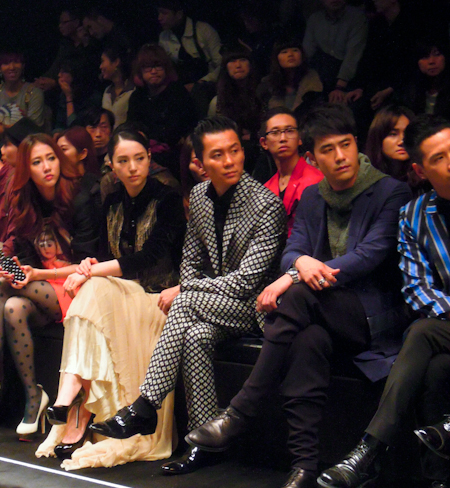 Well-known actor Li Chen is wearing a suit from the same collection of Simon Gao that he was watching from the front row. The material is 100% silk and the pattern is something of a polka dot, though I am looking forward to having the opportunity to see it up close in the workshop.
The presence of Simon Gao on the Mercedes-Benz China Fashion Week schedule was notable because have not previously been younger, hipper designers represented at the event. The tendency had been for figures like Xander Zhou, Zhang Chi, Vega Wang, etc. to do their own events off-location either during the Week or at other times of the year. Most of the designers that show at China's premier fashion week are from larger and inevitably far dowdier brands, design schools, or just people who seem to have really good connections with government.
Usually the front rows of these shows are crowded with rather frumpy looking wives, government officials, and students who claim to be studying fashion but more like IT or chemistry majors. The fashion crowd is rarely seen at Beijing fashion week, though change has been in the air since Mercedes-Benz took over naming rights for the event.
I have not had a chance to get to the bottom of the story behind why Simon Gao is now on the schedule, but the impression many observers have is that China Fashion Week is ascending in terms of importance and that much of the thanks for this should go to Mercedes-Benz.
More photos of the week here.