In three hours, I will be boarding an Air France flight to Paris. There, I will attend the release of Lacoste's 2010 Collector's Series. The launch party is on June 25 at the Musée des Arts et Métiers (Museum of Arts and Industry).
三个小时后我就要乘法航的飞机飞往巴黎。在那里我将参加鳄鱼2010收藏家系列的发布会。发布仪式将于6月25日在巴黎工艺博物馆举行。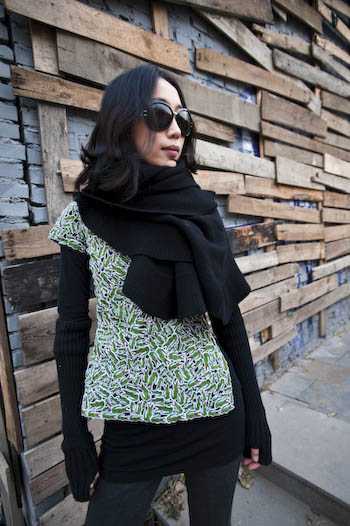 Every year, Lacoste brings a designer or artist from outside of fashion to design a special edition of polo shirts. This year is particularly exciting for me because the partner artist is based here in Beijing. There will much to follow on this over the next couple of days.
Last year, Stylites did a very interesting photo shoot for For fashion magazine《虹 Madame Figaro》, Stylites asked some stylish young ladies from Beijing to mix things up using shirts from the Lacoste 2010 Collector's Series, designed by the Campana Brothers.
Above is Ivy in the super-limited-edition (24 available globally) shirt designed by the Campana Brothers. For images from that shoot (photographed by Anne Li), have a look here.
每年鳄鱼都会邀请一位不怎么活跃于时尚界的设计师或者艺术家来设计限量版的Polo马球衫。今年我尤其激动,因为邀请的艺术家来自北京,接下来的几天可以关注的东西就会有很多了。去年,Stylites给时尚杂志《虹 Madame Figaro》拍了一张很有意思的照片,邀请了一些很潮的北京姑娘们穿着由 Campana Brothers设计的鳄鱼2010收藏夹系列的衫和别的东西混搭。
这是Ivy穿着超级限量版的由Campana Brothers设计的衫(全球只有24件)。想了解更多关于这次的拍摄(摄影师为Anne Li),请看这里。