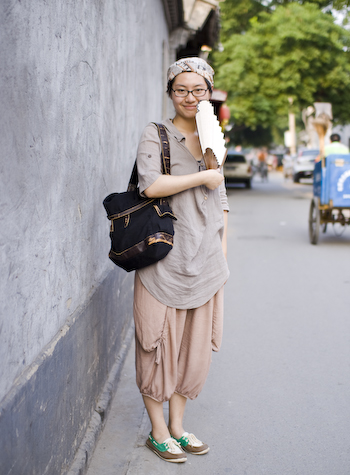 Yesterday I had a special, somewhat amusing, street fashion assignment for China Auto Pictorial, China's largest automobile magazine. My accomplice in this dark mission was this editor of the magazine's lifestyle section.
昨天我接到一个挺有意思的特别任务,为中国最大的汽车杂志《中国汽车画报》做街拍。这次的秘密任务由我和该杂志的生活版编辑一起执行。
She does not support China becoming another Auto Kingdom like the US. Not only does she not have a car – she can't even drive! In fact, she might be the first Chinese luddite that I've met. She dislikes technology and only succumbed to cellphones a couple years ago. Her home is a beautiful old courtyard, which is unfortunately likely to be demolished over the next couple of years. Like me, she dislikes high rises.
Her unconventionality and transgressiveness go even further. Apparently her fan is also about two inches longer than the length suitable for women. Hers is the length of a scholar's fan.
她不支持中国也像美国一样成为汽车王国。她不光是没有车,而且也不会开。事实上,她有可能是我在中国遇到的第一个勒德分子。她不喜欢高科技,前几年才向手机投降。她家在一个很漂亮的老四合院里,但不幸的是很有可能过几年就要被拆除了。
她的不合惯例出牌和叛逆还不止这些。很明显她手中的这个大大的学士扇子要比一般的女式扇子长两英寸呢。