Time Out Shanghai: Trends for Spring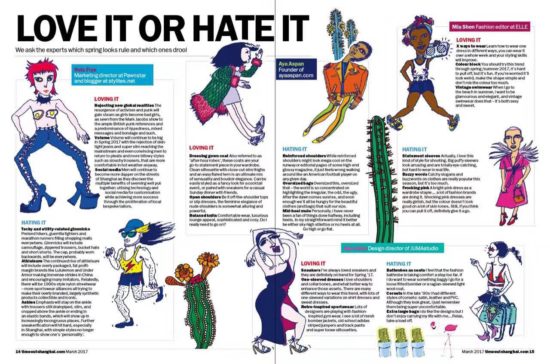 Time Out Shanghai asked me to come up with the trends for Spring 2017 that I like and don't like:
Here are "like":
1. Volume will…continue to be big in Spring 2017 with the rejection of skintight jeans and super slim reaching the mainstream and even convincing men to return to pleats and more billowy styles such as slouchy trousers, that are more comfortable in hot weather anyway.
2. Rejecting the new global realities, the resurgence of activism and punk will gain steam as girls become bad girls, as seen from the Mark Jacobs show to the ample British punk references and a predominance of rippedness, mixed messages, and bondage and such.
3. Men will continue to become more dapper on the streets of Shanghai and Beijing as the multiple benefits of seeming well put together are discovered, the proliferation of local bespoke tailors achieve more and more success and the benefits of technology and social media for customization are utilized.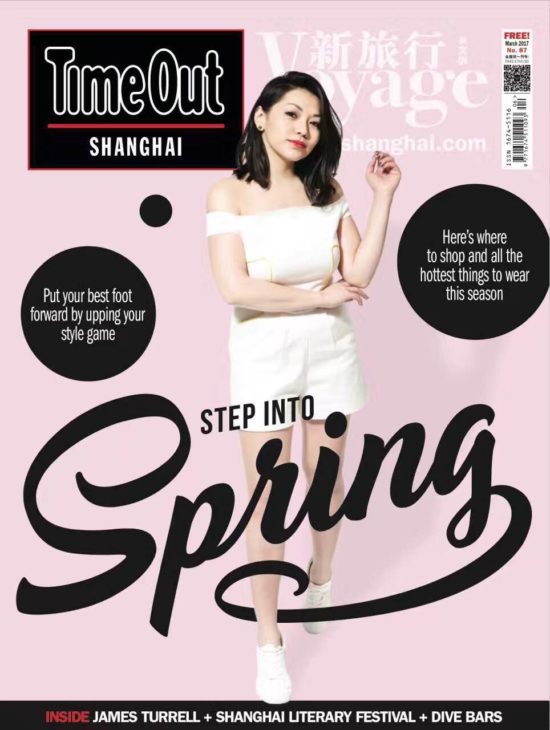 And "don't like":
1. Techy and utility-related gimmicks with pretend hikers, guerrilla fighters and marathon runners filling shopping malls everywhere. Gimmicks will include camouflage, zippered trousers, bucket hat, rope, backpack, short shorts and the the cap, probably worn backwards, will be everywhere.
2. The continued rise and rise of athleisure will include overly packaged, fat profit-margin brands like Lululemon and Under Armor making immense strides in China and encouraging many imitators. Relatedly, there will be 1990s style nylon streetwear – more sportswear alliances all trying to make their overly branded, largely synthetic products collectible and iconic.
3. Emphasis will stay on the ankle with trousers still drainpiped, slim, and cropped above the ankle or ending in an elastic bands, which will show up in increasingly incongruous places. Further sneakerification will hit hard, especially in Shanghai, with simple styles no longer enough to show one's "personality".
Time Out Shanghai also asked me: What do you foresee being some of the biggest trends in 2017?
I see a conflict over what defines femininity visible in bra tops paired with otherwise rugged outfits, tauntingly girly styles, and a general edginess that will be moderated by a certain modesty in drapes coming from China.
Alternative fashion capitals, especially LA and Lagos, will challenge the uniform nature of fashion trends and street style. I see Africa especially Africa exerting an influence on menswear.
Chinese brands will continue to be in the global spotlight – indeed, the traditional fashion capitals may become their domain as more and more show in Paris and NYC.
With the predominance of online shopping here, China will lead the way toward physical shopping becoming even more experiential with stores become more and more showrooms and places in which to pass time.
Thanks to Time Out Shanghai for giving me this chance!