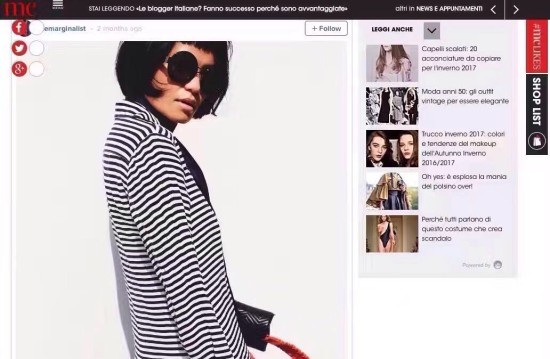 Above, Fashion Blogger Yanie Durocher wears an item she found at Pawnstar's shop in the Clement Apartments, the heart of Shanghai's French Concession.
The ever-style Yanie Durocher's shoot and interview with Marie Claire Italia (in Italian) that happened on her last trip to Milan. See the companion piece on her blog, The Marginalist, here, Yanie as Fashionista in the Shanghai edition of City Weekend, an interview on That's Shanghai, her PR Agency, and here is the piece that she wrote on fashionstatement.asia.
She is one of the better-known and more colorful figures on the Shanghai fashion scene. Montreal-born Yanie's uniqueness may stem from her positioning as an overseas-born Chinese person making it big on the Mainland. Most popular girls on the scene here tend to have a rather samey look – big doe eyes, a pointy nose, and an especially and an overwhelmingly feminine kind of vibe; both her look and her personality stand out. Thus, her looks are approachable while her style may be somewhat beyond what the scope of most Mainland Chinese fashion bloggers. Her official wechat account – which operates more or less as a blog that one just sees on wechat – is popular in Shanghai and perhaps throughout China.
Yanie is also a China PR and marketing expert who worked at Glimpse, one of Shanghai's more important agencies in the realm of fashion and lifestyle, with clients such as Ecco, CK Jeans, Chow Tai Fook, Shanghai Tang, Fossil, and American Rag Cie as clients. Yanie is also loads of fun and a great person to invite to parties!