Beijing's Young, Hip, Couples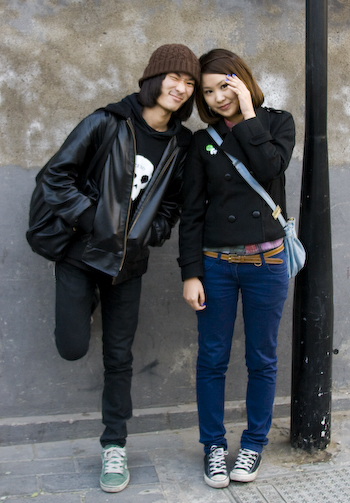 These couples may not be at the cutting edge of style, but it's always fun to find couples in which the two parts seem to go exceptionally well together. This is rarer than one might expect. The usual situation is a female concerned with fashion in an utterly girly way and usually carrying a designer handbag, accompanied by a horribly dowdy male with pleather shoes and an ill-fitting overcoat. These two study art design at
Beijing Huijia University.
The skull trend,
investigated before
, seems loath to die.
It's a bit late, but I might even jump on the trend. Velvet slippers with the skull and crossbones have been one of the hottest items for at least two winters, as
this article from the Spectator
explains.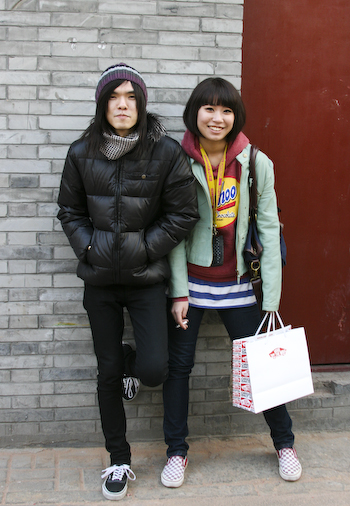 And these two are recent graduates of university. They now operate an online fashion boutique. They are both born and raised in Beijing itself. This is surprisingly rare. Most people I encounter were born in the provinces and came here to work. She is indeed wearing a Yoo-hoo hoodie. This is in fact what convinced me to take the pic.
Some of my other favorite couples that have appeared on Stylites are the high school pair in which the guy was wearing M&M trousers, the two roommates wearing zebra pants and this pair of lovebirds. The last picture gives a great look at a wall along Nanluoguxiang from about eight months before the Olympics. Things are a lot cleaner now, though I adore the interesting patterns that the elements create on walls over the years.