Stylites documents the blossoming of self-expression in contemporary China, providing a pictorial record of the most fascinating pedestrians in Beijing at the start of the 21st century, the moment when China had risen with its new greatness apparent to all.
Walking down Changan Avenue one night in 2007, I saw an unusual hobo whose face and manner somehow reminded me of Christ. He had a mustache, a staff, Adidas-like trainers, and a checked wool coat. I took a snap of this odd fellow and put it on Stylites, then my blog for random, often morbid, reflections.
Gradually, I started taking more photos of unusual types. Local magazines noticed and began carrying the pictures. Stylites quickly moved in the direction of street fashion.
Not long after that, I became Marketing Director for Senli and Frye, a menswear and tailoring boutique here in Beijing.
Stylites is named after the Christian ascetic, St. Simeon Stylites (390-459), an Assyrian monk who sat on top of a column outside of Antioch for over fifty years. He may have only worn a loin cloth, but a fellow who sat on a pillar for all to see for five decades had to be nearly as vain as anyone appearing on this site. I mean no disrespect toward the saint, and believe that his message of asceticism is one that all of those so interested in their appearance and generally temporal matters should bear in mind.
Photographs from Stylites have appeared in exhibits from Arles to Harvard University, in books, and on other websites and countless print media. I have monthly columns in China's National Geographic Traveler (《时尚旅游》– in Chinese) and China International Business and a weekly column in Modern Weekly (《周末画报》– in Chinese). Photographs from Stylites.net have appeared in these and Chinese Vogue (《VOGUE服饰与美容》), Grazia (《红秀GRAZIA》), Beijing Walk (《北京漫步》 – yes, it's the magazine in every taxi), The Beijinger, and many other publications. I have also traveled to Paris to advise Lacoste on style, art and the China fashion scene and to Berlin to work with ESMOD Deutschland on opportunities for European fashion design students in China.
– Nels Frye
Creative Director
Stylites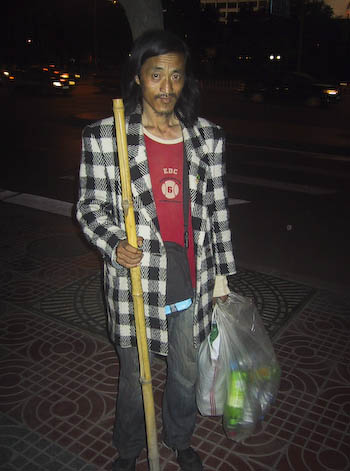 The first Stylite.
Media Coverage of Stylites
Note: This is a very incomplete list that will be updated as soon as possible.
English
The Huffington Post
H&M Magazine (flip to page 18) – Stylites is included in the "World's 5 Best Street Blogs"
CScout
China Daily
People's Daily Online
Double-King: Online Magazine for Fashion and Marketing
Interview on 360fashion.net
Chinese
周末画报 (print edition only)
1626 (print edition only)
三联生活周刊 (print edition, and story also at rayli.com.cn, 中国经济网, sina.com.cn and 网易女人)
fashiontrenddigest.com (story also at 中国服装鞋帽网 and Yoka.com)
douban.com (about Stylites' secondhand market)
全球街拍博客百强大名单
Nels Frye catches Street Style and China Fashion News
STREET and STYLE
German