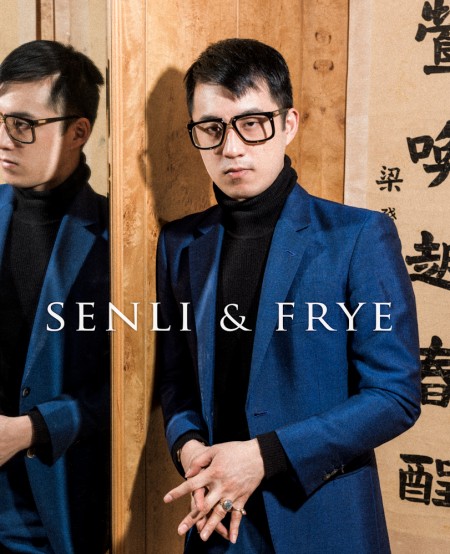 Photos: Eric
Beijing's premier bespoke tailoring experience. We offer a contemporary version of traditionalist men's suiting in the best fit for you.
Appointments:
Phone Number: 1391-009-2410
Email: tailoring@stylites.net
Address
The address is: 1/F, Yaxing Building,46A Liangmaqiao Lu
From the Northeast or Southeast exit of the subway, go east around 200 meters along Liangmaqiao Lu (you will pass the Kempinski hotel on the right), to the second traffic light (the first major intersection). Take a right at the same corner that has the Somerset apartment tower on its southeast corner (take a left and you would be heading toward Women's Street and the US embassy) and walk fifty meters. The shop is on the left – on the first floor and is visible from the street. It is in the same building with both a Cantonese restaurant on the first floor and a Japanese one on the second.
亮马桥路甲46号亚星大厦1层
在燕莎友谊商城东二百米路口东南角五十米左右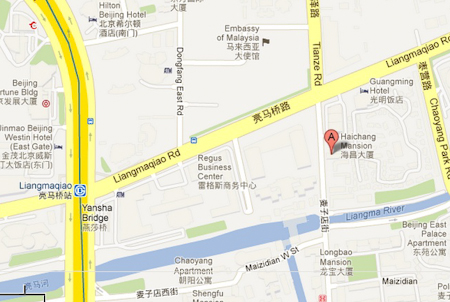 Time Requirement
Senli and Frye is by appointment only so please call or email to schedule a time. A small enterprise relying on one highly-skilled tailor who gets to know your specific style and body type, Sen Li and Frye suits are typically completed in ten days, at the fastest. Some customers on a tight schedule will opt to have the suit shipped, after the fitting. In this case, four days are required.
No Outsourcing
Sen Li measures every client and cuts every suit. Our competitors in Beijing, whether on the low or high end, almost all send measurements out to factories or workshops in other cities. The cutting is usually done by someone different from the shop assistant who took your measurements. This produces an inferior, less customized result, which might be called made-to-measure as opposed to bespoke.
Materials
Our 100% wools are imported from England and Italy and tend to be super 100s, 120s and higher. Those suits selling for under RMB 1,000 at Ya Show and the Silk Market are made from poly-blends. We also offer linen and linen blends from Italy as well as wool and wool/cashmere blend tweeds from Scotland. You will be pleasantly surprised to see the amount of choice. Though sometimes the sheer number of fabrics available can be a bit overwhelming, we will guide you to the choice that is most suitable. Our cashmere wool blends for coating are produced domestically.
Our linings are Bemberg Rayon. This is the most durable lining fabric. In addition to tearing faster, the poly lining used by other tailors will leave you sweaty and uncomfortable. The buttons we use are either horn or the highest end synthetic materials.
Details and Construction
Just to name a few: Our button-holes are hand-sewn. Our suits include sweat guards and cuff guards for the trousers.
Our construction is mostly hand-made. When we do rely on machines, it is mechanical rather than automated sewing devices, offering more precision.
Service and Flexibility
Other top tailors tend to give you their house style, while the cheap ones just make a mess. We labor to create suits according to client's requirements, though we do request that they bring in an existing suit. We can use this as a model from which to discuss your preferences in terms of fit and styling.
A Note on Shirts, Alterations and Female Clients
Our focus is bespoke suits and coats for men. Since we rely on a small workshop and a single cutter, we do not have the capacity to produce shirts. However, for our clients, we can source shirts from a reputable producer. The price is RMB 550 and the materials are domestic and do not match the level of our suiting fabrics. We would like to note that it does not make sense to order a shirt with us as a trial in order to understand the level of our quality and service, since we do not actually make the shirts.
We are very sorry, but we do not have enough capacity to perform alterations of existing clothing.
Though Sen Li does have the ability to cut dresses, he has decided to focus his talents on suiting. We do not make dresses, wedding gowns, etc. What we can do is traditional suiting for women.
Pricing and Payments:
The price for business suits and cashmere overcoats typically start at RMB 7,000, and rise with the quality of the fabric. We regret to inform you that only cash, paypal, and bank transfer are accepted at the moment. We ask for a 50% deposit at the time the order is placed and the remaining 50% upon completion of the suit. In cases in which the item is mailed, we need full payment including the price of shipping in advance.
Some potential customers believe our prices are high, perhaps because they expect Beijing basement. It is important to realize that for a fully-canvassed suit using Italian and British fabrics, we are quite competitively priced in this market. However, if what we ask is simply beyond your budget, please let us know and we are happy to refer you to our partner that provides an excellent product at a lower price point.
Photos of Clients:
Please note that these are mainly photos from daily life and not studio shots.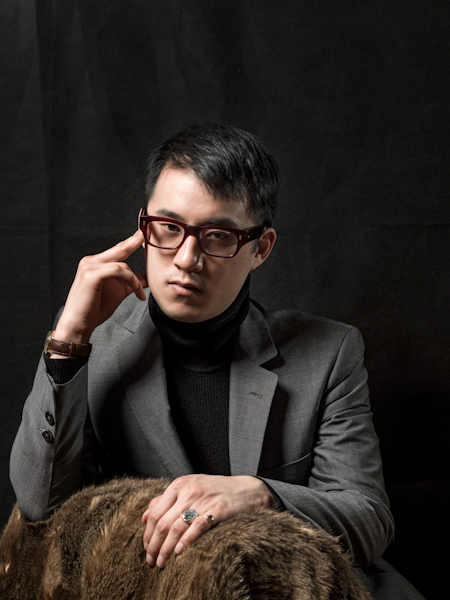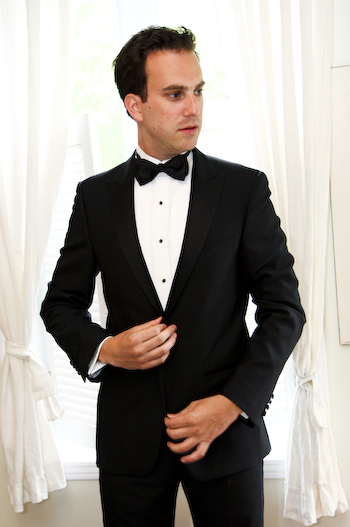 Whereas in the West those of modest means must turn to ill-fitting rentals for formal wear, in China the average businessman can have a tailor create a bespoke, high-quality ensemble that will be immeasurably more attractive than what they might wear back home. This allows for a significant addition to the wardrobe, to be worn with pride rather than mere obedience, and not reserved solely for very formal events.
Karim Morcos wore a Senli and Frye black tie ensemble to his wedding in late 2008. See the Cosmo Bride write up on their wedding in our press clippings section. The most reliable choice for younger men like Karim, who are in good shape, is probably a single-breasted, peak lapel dinner jacket, though shawl lapels and double breasted are other good options. Karim has opted for a slim fit and flat-fronted trousers.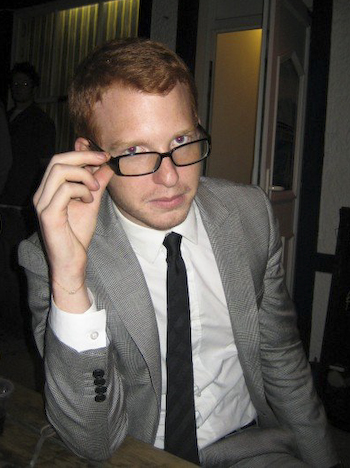 Mr. James Whelan wears a two-button, peak lapel suit in a classic Prince of Wales check. As per Mr. Whelan's taste, the jacket and trousers are made in a very slim-fitting style and narrower lapels with the shoulders and chest being quite structured. The fabric is an super 120s, weighing around 300 grams per meter and made in the United Kingdom.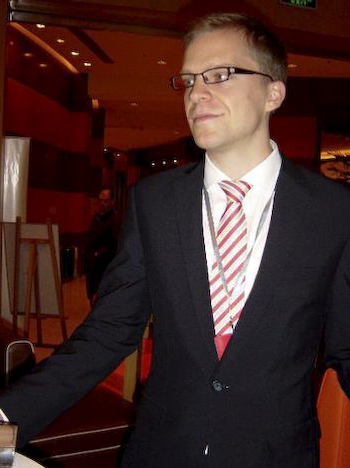 To look his best at a major annual art show in Beijing, Mr. Michael Hatch commissioned this navy, slim-fitting, suit from Senli and Frye. The suit uses a Chinese fabric in a 280 gram weight.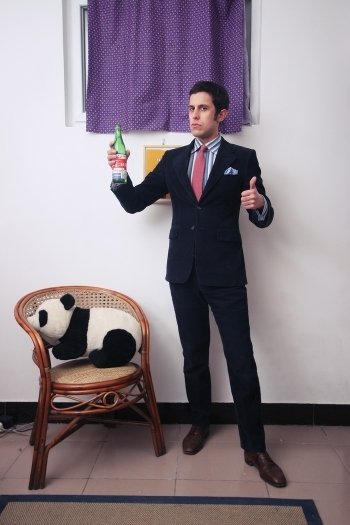 In this whimsical photo shoot for 1626 magazine, Mr. Nels Frye, creator of Stylites.net and Marketing Director for Senli and Frye, wears a heavy corduroy suit in navy blue. The style is straight from the 1970s, minus the bell-bottoms. Wide lapels, roped shoulders and a heavily suppressed waist are key features.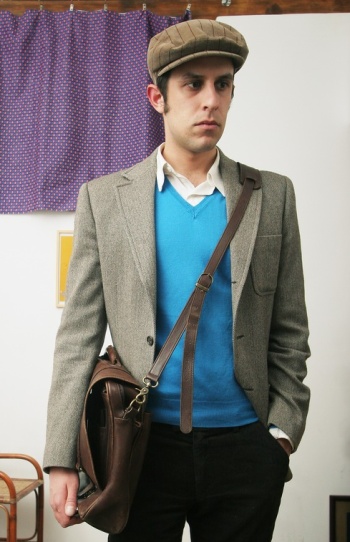 Another great option for this season is tweed. The classic herringbone sport coat we make is a staple, but we offer a big range of tweed options like birdseyes and houndstooth, checks and plaids, and solids.
Mr. Frye wears a casual tweed sport coat in a heavy-weight herringbone. The coat is 2 and a half button design where the top button is not intended for use. The patch pockets and stitching along the lapels make the jacket more casual. This jacket is one of the favorite casual pieces from Senli and Frye, and has been made by countless clients in variety of styles.
Here are some online reviews of Senli and Frye:
2. City Weekend
3. Time Out
Also, please like us on Facebook.
Legal terms:
This site is operated by Senli and Frye Co. All business is conducted with this entity and not either Nels Frye or Sen Li personally.
We do provide refunds under any circumstances.
In the case of shipping of items, the customer assumes the risk of loss in transit for all shipments, as is the case with online retailers. This means all payment must come in advance.
Privacy
Senli and Frye will not distribute your information to ther parties.