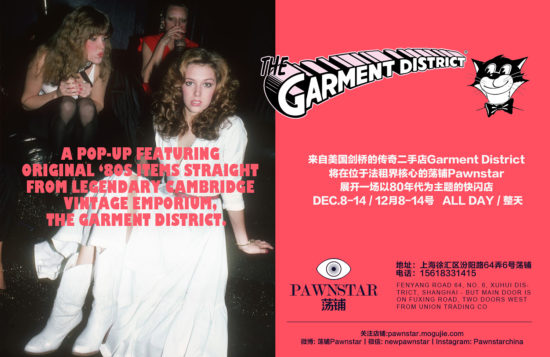 The Garment District Pop-up at Pawnstar brings some very unique items from the legendary Cambridge Massachusetts "alternative department store" to the middle of Shanghai's French Concession. With the curation of items for this pop-up, Pawnstar sought both to present styles previously unavailable in Shanghai and to capture or express a bit of the current zeitgeist. Designers have been reinterpreting the '80s for quite a few seasons and this spirit can be observed on many of the hipper dressers on the streets of Shanghai. We are hoping that this pop-up will give our customers a chance to reflect on the origins of some of the trends that one sees popping up on runways.
The Garment District has a special for me because I grew up around Cambridge and, more importantly, a dear friend, Prof. Christopher Leighton (now in contemporary Chinese history at MIT), introduced me to the shop when I was 15, on a colorful, rambunctious, expedition into the city.
Here's more from on the pop-up from our favorite Time Out editor, Sebastian Morgan.
Click below to read more about the history of the Garment District.