Beijing Street Style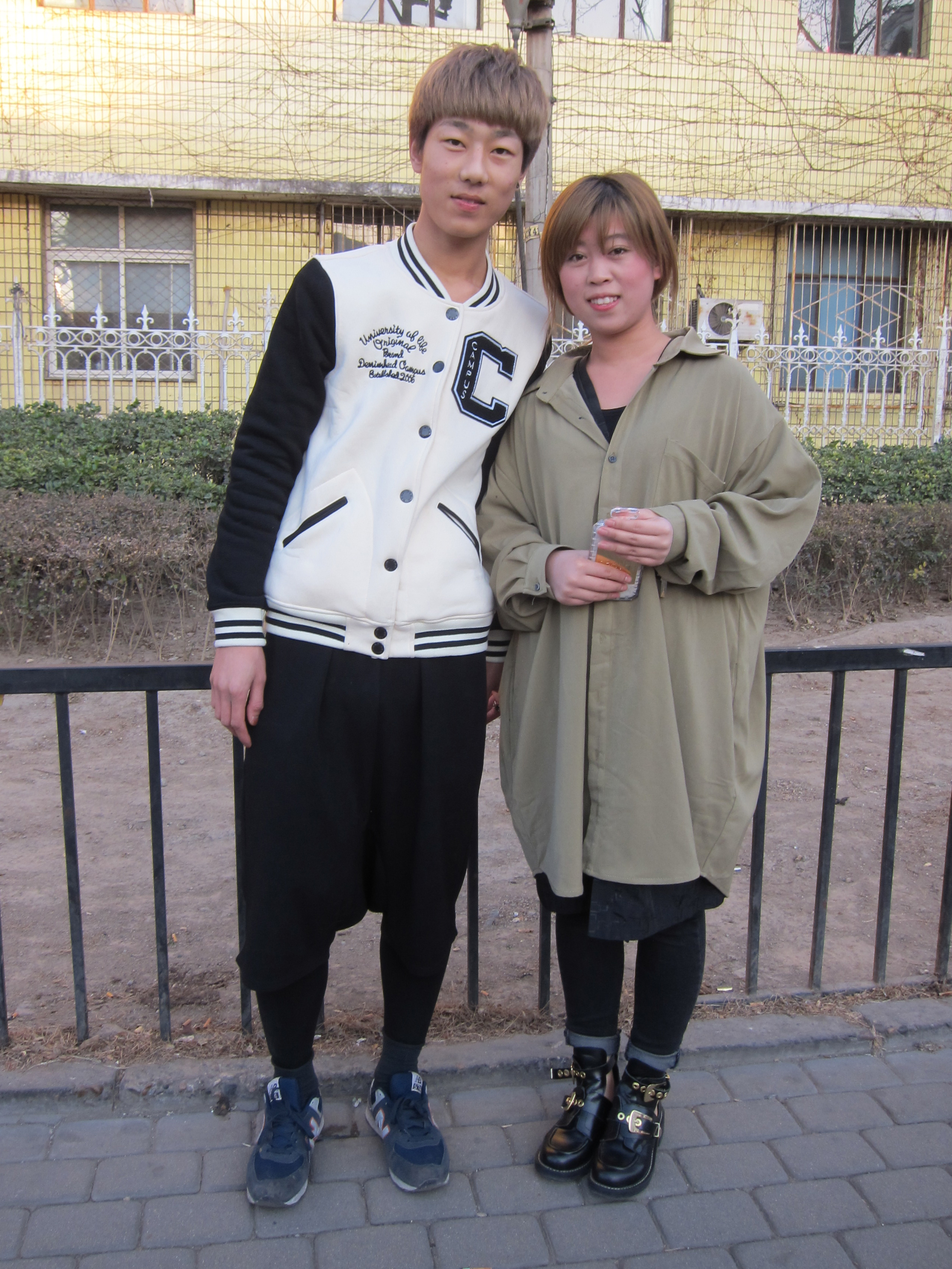 Just a quick spin looking for more spring looks lead me to this nice couple. The blond hair and styling is on trend with the must have baseball jacket for him and the oversized military boyfriend shirt for her. Dong Da Qiao is a interesting area were fashion conscious young adults are harder to find but at least you do not get the tele-lens paparazzis prowling around like in Tai koo li.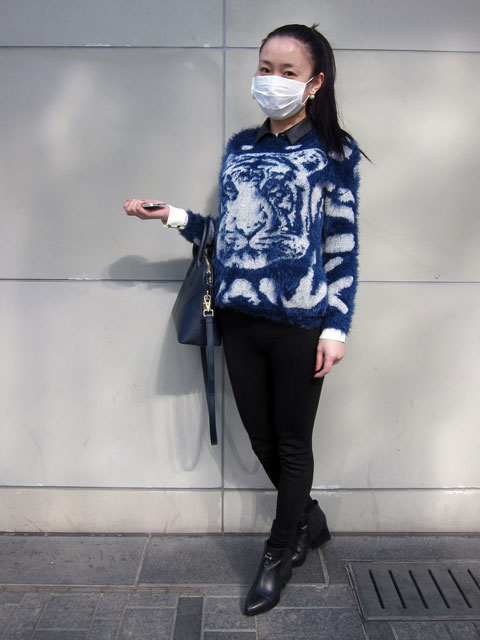 It's a difficult fashion decision:  shall I wear something warm that saw me through the harsh winter or shall I brave the sunny yet still cold Beijing weather? Eric goes for full on short and Hoodie looks unfazed by the bitter cold wind, Jeff opts for layering which gives a good compromise between too cold and too warm. Our jumper Tiger Kenzo'esque Friend goes no jacketo braving the elements in style….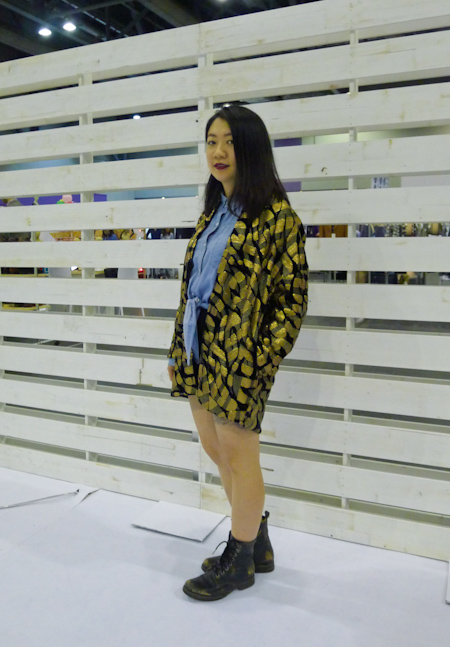 The HUB last week brought fashion industry types from all across Greater China and beyond to exhibit, visit and buy.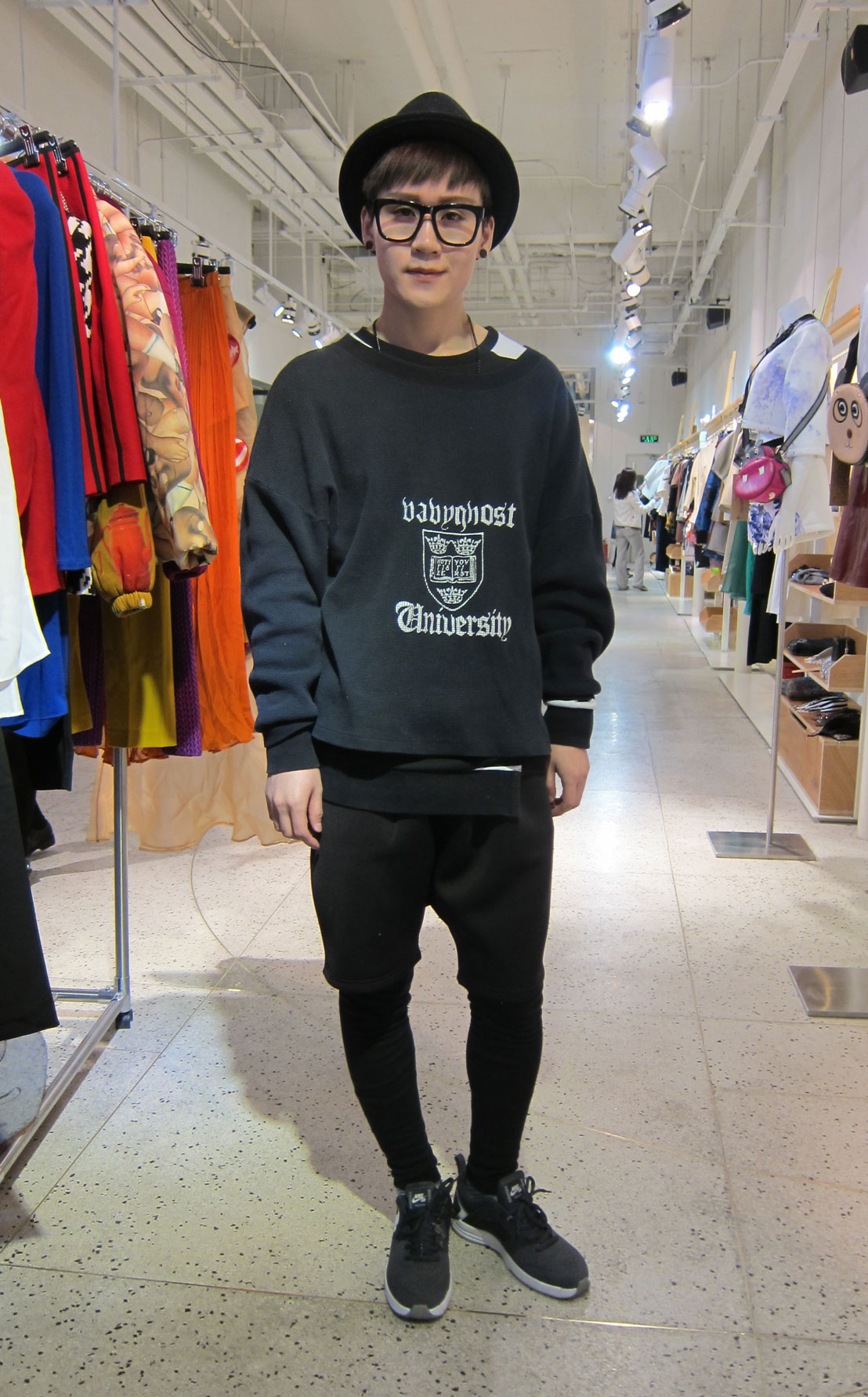 After a long smog phase, the sun and clean air blessed Beijing for a week end, and with it a spring feeling, leaving behind the dredges of the winter. What a better occasion to show off early spring attires.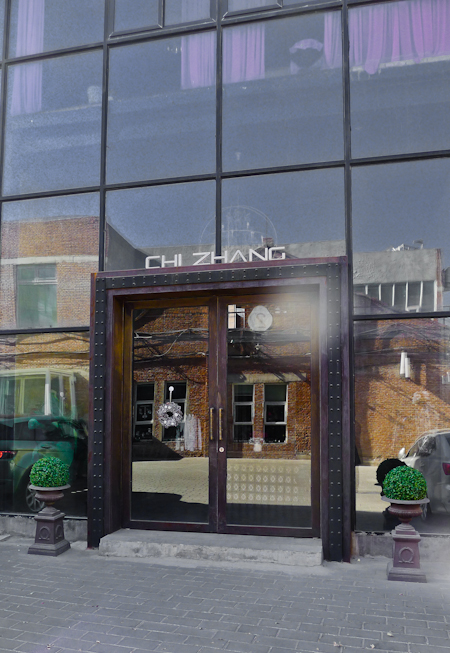 For me, Zhang Chi is intensely interesting.  He has thrown bigger fashion shows than any I have been to.  These are massive, imperial-scale events with over a thousand people at major art galleries like UCCA and D-Park in Beijing.  His personality is extremely outgoing and he has shown an ability to attract sponsors like no other.  Martell has been supporting him for over five years and car companies like Land Rover and Lexus flock to sponsor him.  He is the most outstanding example of the way corporations and the media get behind Chinese designers long before they have actually become commercially viable.  I am not sure that he really is making money yet, but he is already a big name here in Beijing.  It's a very massive, awesome Beijing way of doing things.
Less on the business side, his designs really reflect the city.  In an age when we move toward everything local in spirit and construction in The West, Zhang Chi is something of a pioneer in his own country.  While most designers here in China tend to express their own personality, react to avant-garde trends from around the world, work in other ways toward entering the global cutting edge, or re-think versions of … Read More »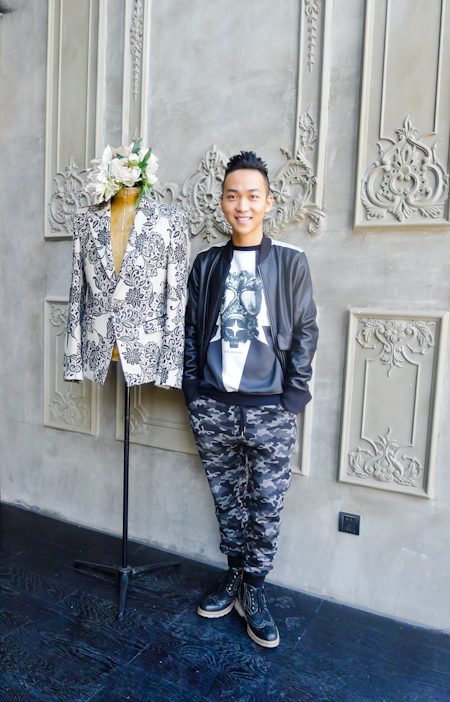 Beijing's most famous young fashion designer, Zhang Chi, is going to be one of the star attractions at The HUB, which runs from February 25 to 27.
I've known Zhang Chi for years from the time of this photo here.   Check some pics of his overwhelming shows.
Check out his website also.
In my effort to rev things up a bit again on stylites, I am getting on some agglomerators. I just joined bloglovin where you can follow me.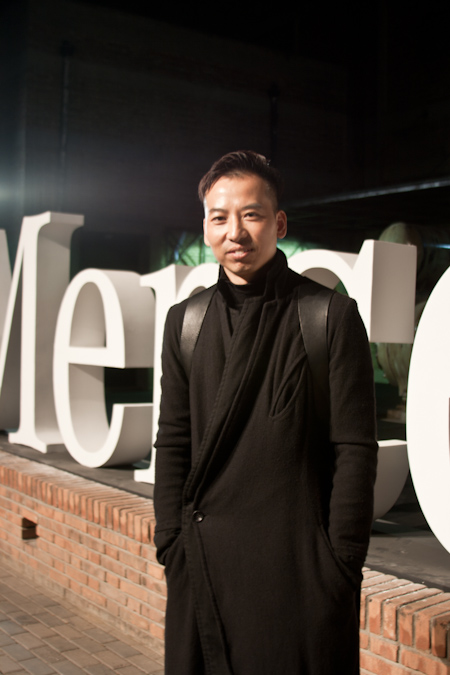 Alexander Chu represents the new generation of movers in the Chinese fashion world. I mean the real movers, not editors, bloggers, and independent designers. His family owns a factory in Zhejiang specializing in fur and leather that has done very well commercially by producing OEM for large foreign brands. Now Alexander is using this strong base to create a label of his own. Chinese factories often have the production capacity but lack the creative spirit needed to make the jump to offering their own label. But I'm sure we will be seeing more and more factory labels like Natural Gift. Once they become better at both design and branding, some will be a potent force in the fashion world that presents a different kind of model to the sort of Western brand that just controls the name and image while outsourcing the production to factories in China. I wonder if this sort of vertical integration will work.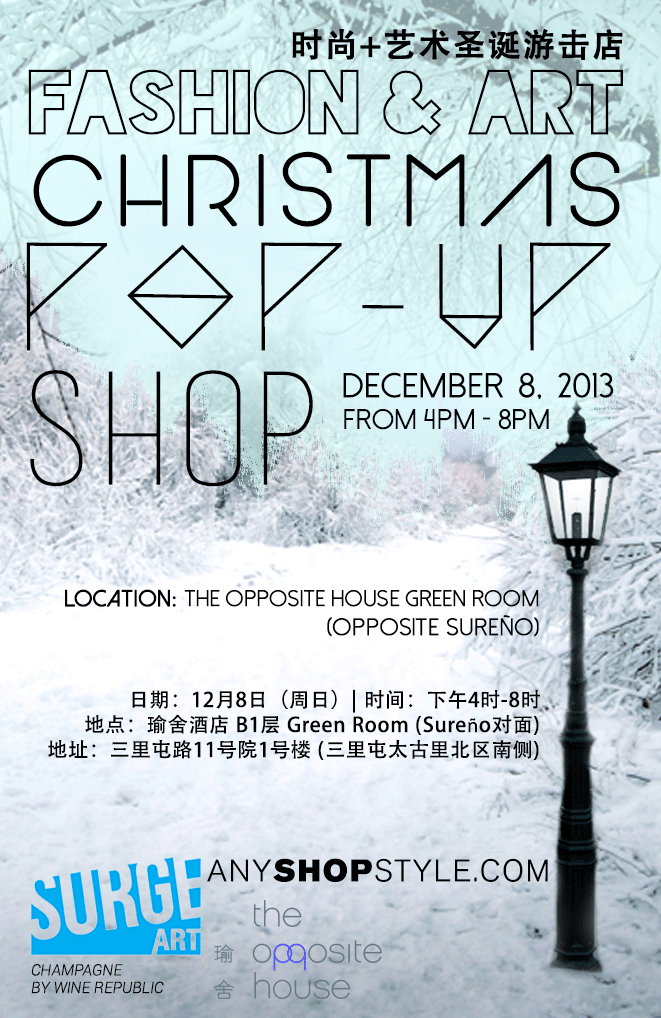 AnyShopStyle is one of more distinctive and coherently-curated of the huge crop of online fashion retail start-ups that have been the talk of the town for the last two years. Founded by long-time Beijing fashion writer Alice McInerney among others, the site focused initially just on quirky designs of young Chinese designers but has now opened up to include some foreign talents as well.
This Sunday from four to eight, AnyShopStyle will be hosting a pop-up shop right in Beijing's Opposite House. Work of designers from the website will be available for the public to touch, feel and try on. Fashion brands include LUVON by Liu Lu, Sara Yun, NEEMIC, Mandarin & General, TwS, funky, animalistic Yang Du, Elysee Yang, Madeleine Thompson, and Candy & Caviar. For Hong Kong designer Erbert Chong this is the exclusive Mainland launch. His designs will only be available at the event and on AnyShopStyle.com the week after. Accessory brands will include Carmen Chan , French Sole , DSata, Everard & Wang and Rfactory. See you there!
Thanks to Nicole Tan of Inverted Edge for interviewing me during my last trip to Singapore.  Read it to find some of my recent thoughts on magazines and the evolution of digital here as well as evolving fashion tastes.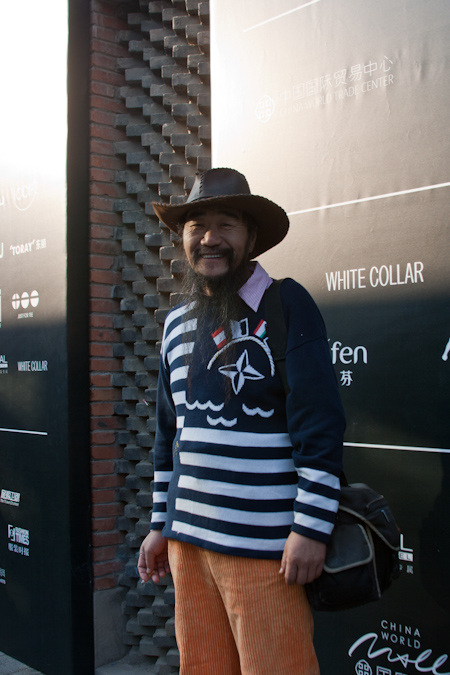 This photographer always dresses in his own way, which he himself proclaims – and no one would deny it – is quite unique for people his age.
Rising superstar James Alofs wears his blue Senli and Frye linen suit in Episode 5 of the Girls. Here is the link, but you have to scroll to minute 13 unless you want to watch the whole thing (there are no English subtitles), a rather amusing look at Chinese girls today.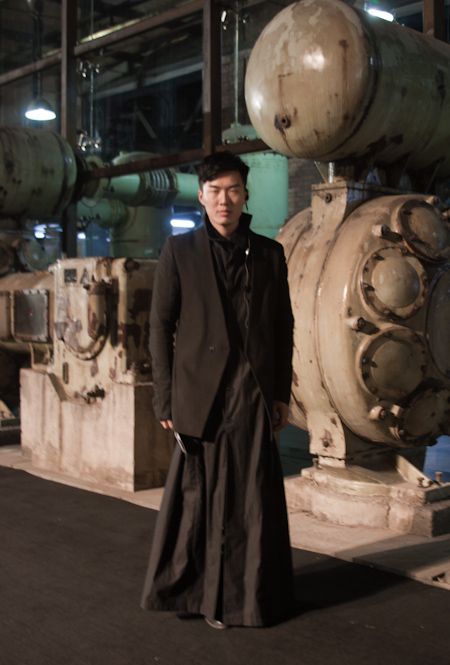 Luofugui (罗富贵) is one of the most visible figures on Beijing's fashion scene.  This probably due to his height, style sense, bubbly personality and two major accounts: rising fashion designer Simon Gao and world-famous photographer Chen Man.  Luofugui is wearing an outfit from Simon Gao.
It turns out that I am going to be one of the two non-p1 street style photographers featured at "The Great Style Leap" a large exhibit that will be at the Orange, in Sanlitun, from Dec. 13 to 19. This notice on Business of Fashion even uses some of my photos. The question for me is what the them of my wall at this exhibition should be. P1 has taken over six-million street style photos, mostly in Beijing and Shanghai, over the last 5-6 years. It is the biggest, best funded, street style project in the world.
P1 was able to reach such a scale because it was membership-driven. All of the people they photographed should be part of their social network, and they are collecting the data. They really do deserve praise for making the connection between street style and social networks and then building up the business in China. I am not sure how well it is doing as a social network right now – they were a bit late in going mobile – but the idea remains a brilliant standout from the age of street style. Their exhibition, much like Stylites, will be celebrating the birth individuality … Read More »
---