Gaga is a freelance writer based in Guangzhou. She came up to Beijing to attend the Maris Frolg show, for which she wrote many of the marketing material. She insists that her choice of this particular English name long proceeded the rise of the American popstar.
She customized the shoes herself.
Posted on March 30th, by stylites in Uncategorized.
No Comments
I am so unhappy that I missed this show. It seems to have the wildest items of the week.
In a vintage Prada hat, Robin Cheng is now based in Vancouver, but he used to live in Beijing.
Robin Cheng是个1/4德国血,3/4汉族的混血。原来在北京住过但现居温哥华。他喜欢"美酒美食,漂泊流浪。" 我问了他一些问题。
This young stylist from Macao is wearing a coat he designed. It uses synthetic hair as epaulettes.
Photographer Danara Battalova moved from Kazakhstan to Beijing in 2005 and says that living here has been "fun, especially the nightlife, but to be honest sometimes taxi drivers make me go mad." Her favorite part of the city is 798. She says Kazakhs are more obsessed with labels than Chinese, who are often happy to hang around in public wearing pijamas.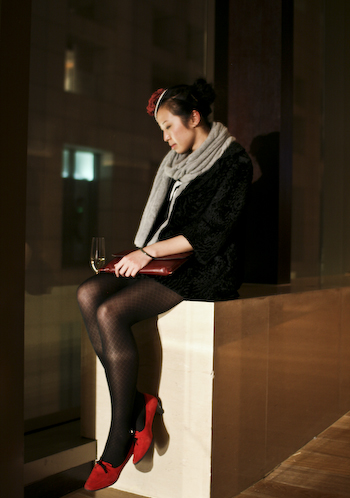 At the cocktail hour after the Maris Frolg show that showcased a selection of nice, wearable items. The show didn't start until nine fifteen, so by the end, it was already past some people's bedtimes. China Fashion Week can be wearying even for the most stylish spectators.
'
This young student was on her way into the Jefen by Frankie show.
Kaka was one of the most memorable models in the Jefen by Frankie show. She is from Brazil and has been in Beijing for three weeks. So far, she has walked on the runways of Cabeen, Jefen and a few other brands that she doesn't remember. Beijing is a bit too cold, she says.
From Los Angeles, Debbie Remmers and Kip Rowles were VIPs at the "Beyond the Lights: Urban Warriors" Septwolves by Daniel Faret show yesterday. The foreign contingent at Septwolves was more sizable than any other show and the designer is from France.
To view all the shows of China Fashion Week, please click here.
关于中国国际时装周的全部信息和图片可以在这里找到。
Tony Li has been sporting capes on several occasions in the last year. Since he's one of Beijing's main style icons, we can expect more and more young men to adopt this look.
每次见到李东田他总是特别热情随和。不知道下次他会不会让我去他的东田造型免费剪头发……
The Notting Hill fashion show attracted some of the most stylish men in Beijing, including Richard Lu and Cao Difei.
诺丁山时装秀吸引了北京最时尚的男人,这其中包括Richard Lu和曹涤非。
Posted on March 27th, by stylites in Uncategorized.
No Comments
My reflections on these three key menswear shows is coming soon. They were all better than I expected. I've been extremely busy going to various shows while fulfilling my usual set of responsibilities at the magazine.
Check out this post on the most expressive accessories that I have found here in Beijing over at the Benetton "It's My Time" blog.
This spectator at Notting Hill manages to express so many things with one shirt: taste, status, wealth, elegance…the list goes on. I am dumbstruck with admiration. He should have brought this style compatriot as his date.
这一位观看Notting Hill的观众仅仅用一件衬衫就表达了他的品位,地位,个人价值,以及对自我高雅的评判, 当然可以表达的还有很多,很多…… "惊艳"这个词可以用来形容我对这件衬衫的欣赏。 他应该带这个品牌的另一个忠实拥护者当他的晚伴。
This adorable student pair was strolling through Nanluoguxiang, arms linked. The one in the red hat was far more outgoing. They kind of remind me of these two.
我发现了这一对可爱的学生手臂相连的在南锣鼓巷逛街。戴红色帽子的女孩相比之下非常外向以及活泼。 他们给我的感觉让我想起了这一对。
---