Ursula is a fashion designer.
服装设计师ursula在@大周末Hotspot 的一个编辑在"我爱XXX"活动。
Wearing what one might describe as a 19th Century Ulster coat in a modern fabric, Edmund is a freelance writer based in Shenzhen. He was at "I Love XXX", the Cosplay event that Hotspot magazine organized yesterday night. I suppose Edmund was thinking of Sherlock Holmes. Here on Tom.com are photos of less interestingly dressed, but more celebrity guests at the event.
作者Edmund穿的是个19世纪的Ulster外套。他在昨天晚上的 "我爱XXX"Cosplay活动。 更多的图片在这里。主要是有名点的人但没有我拍人的那么有意思。
At the "I Love XXX" opening tonight, here is K' Yu a Fashion Editor at Hotspot magazine, taking inspiration from Catholicism. The theme of the party and the artwork were something along the lines of Cosplay, a Japanese shortening of "Costume Play". More on this in posts tmw.
在"我爱XXX"的开幕活动,这是《大周末Hotspot》的一个时装编辑于昆。
Photo: Penn
Just got some more photos in from the Tianjin Snow Polo match. Gao Xiang is a rich man in Tianjin who came out to see what polo and the real-estate development by Goldin Metropolitan Polo Club were all about.
Photo: Penn
高祥是天津的一个有钱人。他来了天津环亚国际马球会为了看看马球和那边的房地产项目。
A blast of cold meant the furry hats were out one last time. Tonight it is expected to snow, but the horrible heat of summer will be here in no time. I already miss winter.
我已经想念冬天。北京可怕的夏天马上到。
Stick to this type of gun! This young man was visiting the White Dagoba with his parents.
我希望他一直只会用这样的枪。这个小伙子跟父母了白塔寺。
One thing impressive about the Snow Polo event in Tianjin was the number of foreign media. There were both freelancers and foreign correspondents. Tomasz was representing the Polish media.
This is how people should dress to watch a Snow Polo match.
看雪马球确实应该这么穿。
Notably hipsterish among all the nouveau-riche guests, Wang Peng came to the snow polo event as the photographer for my magazine. The construction project behind him – always surreally visible from the polo – are what most viewed as the main reason behind the event. The Polo Club is the first completed segment of a USD two billion plus project that will bring to Tianjin a new Central Business District and high-end residential area with villas and luxury apartments.
王鹏在亚洲首次雪地马球赛在天津。跟马球会所一起的地产项目在他后面开始建。
I spent the weekend at the Tianjin Goldin Metropolitan Polo Club for the first snow polo match ever in Asia. The event was a great chance for China's luxury-obsessed new wealthy to strut their stuff. The guest list included members of the Tianjin Municipal Government, including two vice mayors, various business and land owners from the city, and members of the international and domestic press.
A college student walking through the hutongs.
一个大学生在胡同里走。
I ran into Dominic Johnson-Hill by the Opposite House in Sanlitun. He founded one of Beijing's most acclaimed tee-shirt boutiques, Plastered 8. One of my favorite websites, Nicely Made in China, has an interview with Dominic.
我在三里屯的瑜舍碰到江森海. 他是PLASTERED 8创可贴T恤的创始人. 我最喜欢的网站之一, Nicely Made in China, 有采访了他.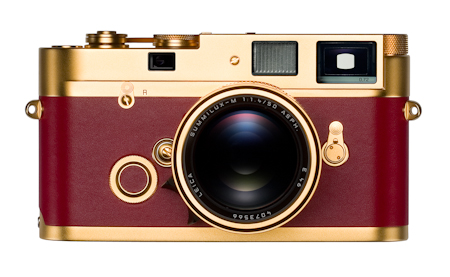 By Jeffrey Ying
Red and gold may very well be the official colors of China. The East is Red but it also likes its Gold and this is reflected in Leica's special Limited Edition camera made to celebrate the 60th Anniversary of the founding of the People's Republic of China in 1949.
The typically sedate Leica MP has been given a makeover with every conceivable metal part plated in 24kt gold, and the body encased in red calfskin. Certain parts of the camera and lens are engraved with select quotes of Chairman Mao and also features an image of Tianamen Square.
Supplied with a classic Summilux 50mm 1.4 lens, this camera is priced at 199,900 RMB and is limited to a run of 60 pieces.
文: 应捷
红色和金色应该称得上是中国的官方色彩。东方的象征是红色,但金色也是东方青睐的颜色之一。在本页这款徕卡品牌为庆祝中华人民共和国建国60周年的特别限量版相机中,可见一斑。
这款徕卡MP,通体将每片可能出现的金属片都镀上24K金,其它部分也由红色皮革包裹。相机和镜头的部分空间,雕刻有毛主席语录,以及天安门广场的图片。配备经典的Summilux 50mm 1.4镜头,限量60台,这款相机的价格为199,900元人民币。
This image of Jeffrey, me, and Miuccia Prada is making the rounds on Weibo, China's Twitter. Now it seems to have ended up on Linkchic.com, a major Chinese website. This page predicts that blue will be a major color for spring. Wearing a medium-blue suit from Senli and Frye that I have owned for several years put me well ahead of the curve. Jeffrey's recently made silk suit is also from Senli and Frye and Ms. Prada is wearing one of her own creations from the latest collection.这个图片已转发了很多次在微博. 现在这个网站的流行趋势叫"愈抹愈蓝"也用了这张图片。 我和jeffrey的西服都是Senli and Frye 做的。
Picture: Eric
Mao Xun is the Fashion Director for Men's Health. Instead of just pushing the latest trends regardless of whether they are wearable for the average man, Mao stresses clothing that is comfortable, affordable and practical.
图: 高强
毛毛迅,《men's health》时尚总监,护肤专家,擅长烹饪,热爱旅游!倡导性感、幽默、轻松、简约的生活方式。硬朗的黑色在白衬衫的衬托下变得柔和!
---