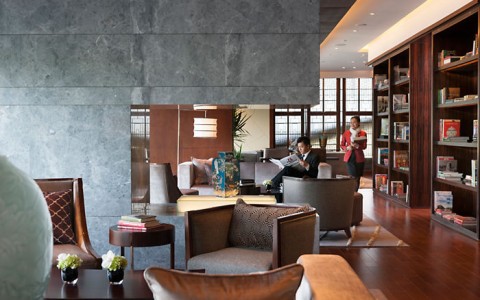 Bubbles on the Huangpu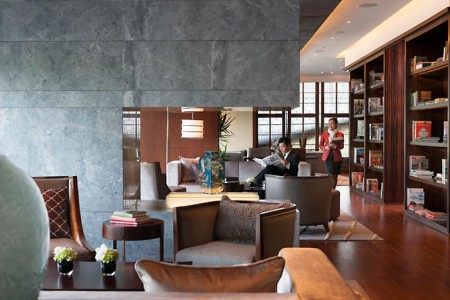 The endless commotion and crowding of the city, the constant flood of emails and phone calls, and, above all, the overwhelming pressure to perform and be even more successful – with stresses like these, it's impressive that the elites of China's megacities can keep going, day in and day out. Rejuvenating breaks are necessary but frequent vacations are not usually feasible. Fortunately, for those living in Shanghai, there is a new retreat from all of that clutter and responsibility and it's just a stone's throw away from the office. Most importantly, they serve Duval Leroy champagne in the executive lounge and have a list of rather classic cocktails. It's worth going just for this.
With every aspect of the design stressing serenity and calm, the Mandarin Oriental Pudong takes your mind off all of the pressures and worries. Its waterfront setting in the newly developed Harbour City is just minutes from the spires of Lujiazui. The environment is completely different though. This is a precinct for the leisure class just minutes away from where the Shanghai Metropolitan Marine Yacht Club will soon be complete. The 362 guest rooms will suit both those on business trips and locals who need a break. For those who can't face the inevitable emptiness of returning to a rather less luxuriant home, there are 210 luxury residences, Shanghai's only fully serviced riverside residences.
Whether in the amenities, the six food and beverages options, or the divine spa, no expense or thoughts for the details have been spared. Every inch of the property has been thoroughly considered, whether by the management or the designers, BUZ Design Consultants for public areas and Chhada Siembieda & Associates for guest rooms. Curated by the renowned Art Front Gallery, the hotel features 4,000 original artworks displayed throughout the public spaces and guest rooms. The design is understated, though colorful, with locally inspired motifs that reference the movement of the Huangpu River waters, Shanghai's futuristic skyline, carved Chinese window frames and the silhouettes of Shanghai's plane trees. The colors, scents, and service are all calibrated to bring calm to frazzled guests, liberating them from the hectic world outside.