Garment District Pop-up at Pawnstar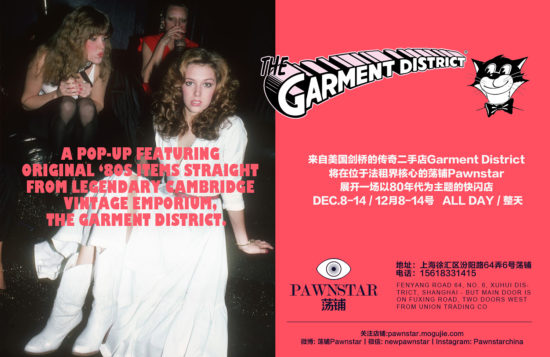 The Garment District Pop-up at Pawnstar brings some very unique items from the legendary Cambridge Massachusetts "alternative department store" to the middle of Shanghai's French Concession. With the curation of items for this pop-up, Pawnstar sought both to present styles previously unavailable in Shanghai and to capture or express a bit of the current zeitgeist. Designers have been reinterpreting the '80s for quite a few seasons and this spirit can be observed on many of the hipper dressers on the streets of Shanghai. We are hoping that this pop-up will give our customers a chance to reflect on the origins of some of the trends that one sees popping up on runways.
The Garment District has a special for me because I grew up around Cambridge and, more importantly, a dear friend, Prof. Christopher Leighton (now in contemporary Chinese history at MIT), introduced me to the shop when I was 15, on a colorful, rambunctious, expedition into the city.
Here's more from on the pop-up from our favorite Time Out editor, Sebastian Morgan.
Click below to read more about the history of the Garment District.
More on the Garment District:
The legendary Garment District is "an alternative department store" in Cambridge, Massachusetts at 200 Broadway, just a short walk from the Kendall/MIT subway station. The current business started in 1986; the Garment District offers a huge array of vintage from the '50s through the '80s as well as contemporary clothing.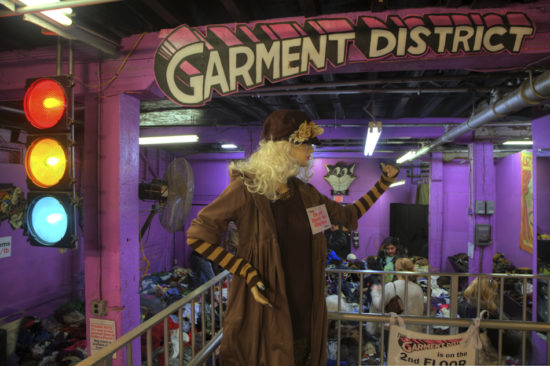 The roots of the business go back to the '40s when it was an offshoot of the Harbor Textile Waste Co. that produced "wiping clothes" (rags) that were supplied to factories. The building at 200 Broadway was built in 1893 and initially housed the Lysander Kemp & Sons soap manufacturing company. It is now the last standing structure associated with Cambridge's booming soap manufacturing industry.
The Garment District began as an offshoot of Harbor Textiles when, in 1979, as used clothing became more popular in the United States, the Dollar-A-Pound center was opened. Instead of cutting used clothing up for wiping cloths it was now sold as fashion by the pound – still without racks or price tags. As the popularity and price of used and vintage clothing started to skyrocket in the '80s, the current Garment District was born. To this day, hundreds of thousands of pounds of clothing are still sorted at this site every year.