Pawnstar: Shanghai Vintage and Secondhand Shop
The top Shanghai vintage and secondhand shop, Pawnstar, just came out with some new fliers: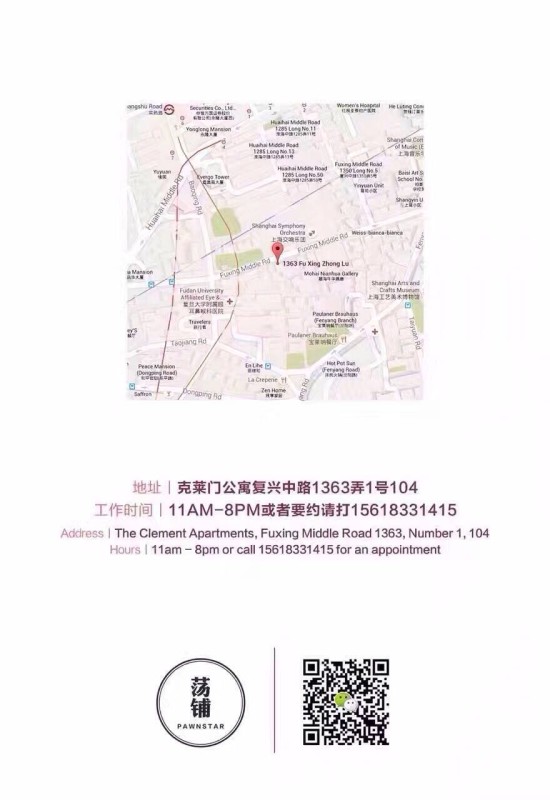 Our message to Chinese customers is that people have way too much stuff, so there is no reason to buy something brand new especially when you consider the environmental impact of the fashion industry. Instead of paying retail every time or just wearing something that is overly recognizable since it is from the latest season, women (and men) should consider shopping on consignment. At the moment, we are more-or-less the major option that is available as the Shanghai vintage and secondhand store par excellence.
We want people to give up that urge – that pressure – to always be seen in the latest trend and start incorporating vintage accessories with designer pieces that may be a season or two old. Hey, for people who really will only wear the latest trend and wear it just once, please just bring those items to us!
For most people in China, vintage and consignment shops conjure up images of dead bodies. That's the predictable question from those who may not be so familiar with the concept of consignment. But for savvy shoppers who love special items, that's all starting to change. Pawnstar has not only its brick and mortar Shanghai vintage and consignment shop, but we're also online with wechat and Mogu Street.
Yes, Shanghai vintage and consignment won't be the same again. People from the US should be quite familiar with this sort of concept. You might say that Pawnstar draws on elements of Buffalo Exchange, one of my favorites, Ina (on 21 Prince Street), Second Time Around, plus adding in quite a bit of vintage and unique upcycled pieces.
If you visit our store on Fuxing Middle Road, in the Clement Apartments, you are likely to find brands like Louis Vuitton, Chanel, Miu Miu, Hermès, Balenciaga, Marni, Louboutin, Lanvin, Ferragamo, Chanel, Gucci, Missoni, Manolo Blahnik, Pucci, Etro, Escada, Jean Paul Gaultier, St. John, and Prada and maybe a DVF wrap dress or two. We  also sell more affordable premium and chain store brands such as J. Crew, Ann Taylor and Kate Spade as well as better pieces from Zara, H&M, etc.
Perhaps it's a bit arrogant, but we feel that Pawnstar really invented Shanghai vintage and consignment.
English address: Room 104, Building 1, The Clement Apartments, 1363, Fuxing Zhong Lu, Xuhui district
Chinese address: 徐汇区复兴中路1363弄克莱门公寓1号楼104室