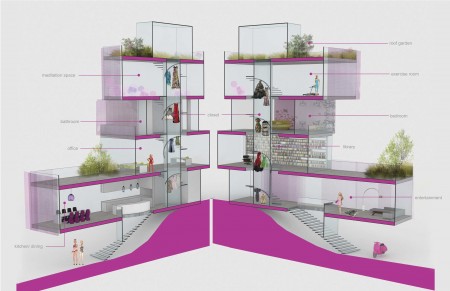 Chinese-American architect Ting Li designed a Barbie Dream House that has made it to the final round of an architectural design competition sponsored by the American Institute of Architects and Mattel, Inc.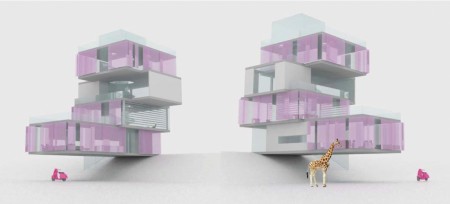 Click here to vote for Ting's house (entry number 30657949).
Here is what the architects say about it:
"Barbie's dream house is the quintessential Malibu beach house; it is modern, functional, spacious, fun and most of all sustainable.
Naturally the newly minted Architect Barbie took on the task of designing her own dream house. She is creative, fashionable, busy and powerful. She has gone through years of training to become a leading figure in her field. She is LEED AP and a member of the AIA. Although she is an internationally renowned globe trotter, when not traveling she loves to look smart, entertain her potential clients, and come up with innovative ideas in her high tech, low energy consumption home.
The concept of this house reflects exactly who Barbie is in her new profession. She has pledged to build an environmentally sustainable home using the principals set forth by USGBC as well as to stay true to all the needs of a classic California girl!
The house is situated on a bluff overlooking the Paciffic Ocean. The entrance faces north-west and the main body of the building has a panoramic view of the ocean. Distinct building programs are speciffic to each floor, connected by a center core of spiral stairs. The stairs rise around a hollow tube, which becomes Barbie's tower closet. Since Barbie is the original fashionista, she inevitabily accumulated a large volume of enviable designer labels. This computer controlled closet allows for the clothes to be displayed and visible from every angle of the house. It also makes dressing easy: she can select her outfit, push a button, and the outfit is delivered to her bedrom via the double helix moving rack.
The house fetures 1500sf of entertaining space and chef's open kitchen on the first floor. A Steven Jobs approved office/library/meeting space as well as 500sf of terrace on the second floor. The third and fourth floors are Barbie's private enclave, her bedroom and her inspiration room respectively. The roof has a green house and a land- scaped garden for her domestic pets.
As a LEED AP, Barbie is on a mission to set an example to be sustainable wherever she can. Her house proudly utilizes solar panels, operable shading devices, low flow bathroom fixtures, energy saving light fixtures, and efficient HVAC equipment. The house occupies minimum footprint as it cantilevers over a bluff, she landscapes her yard, roof and terraces for cooling and visual effects. In order to reduce CO2 emission, Barbie opts to ride her Pink Vespa around town instead, and if she needs to haul her shopping bags, Ken is never far behind in his convertible."