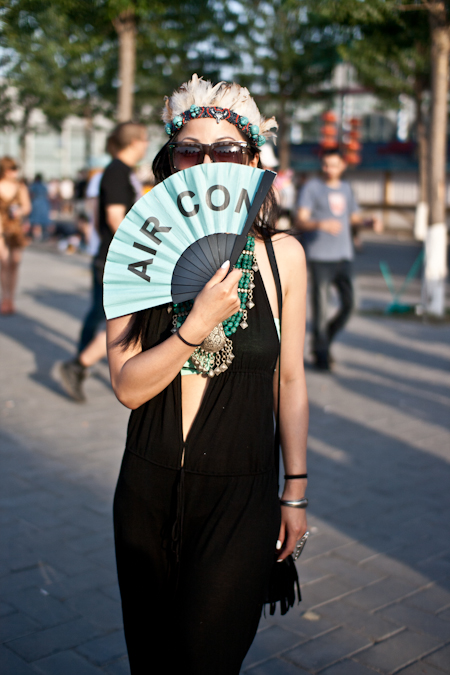 Photo: Suzy
We had a slight respite due to rain in the past few days, but true evil of summer is going to be upon us soon. Fans remain the best accessory. For you and world, they are the coolest way to stay air-conditioned.
Native American-influenced styles do occasionally come on view in Beijing, as we see here and here.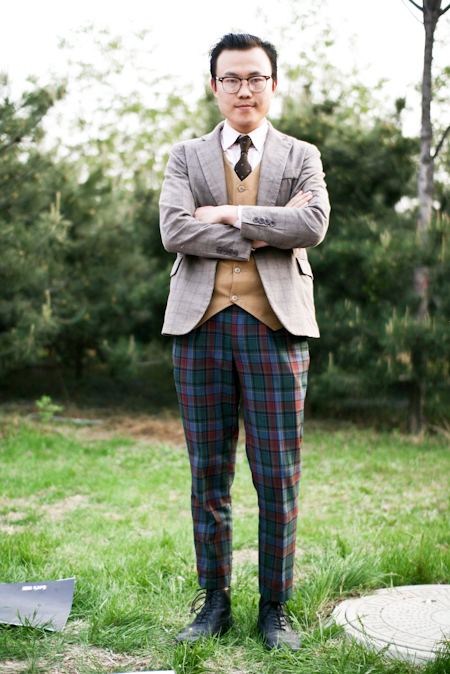 Photo: Suzy
This pic is from a month or so before, so the look might seem a bit out of season (though the rain has made things pleasantly cooler today). This kind of style is extremely uncommon.
Photo: Suzy
But she seems to like it.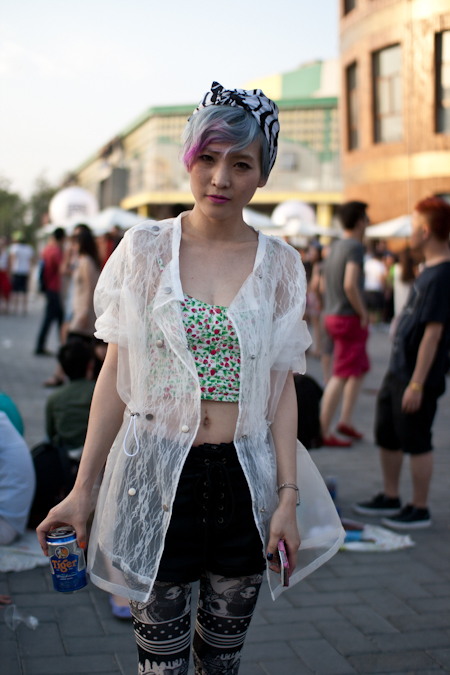 Photo: Suzy
These hair colors are reminiscent of QueenD.
Here are some more photos from the party with Jeans Team.
Above is 0086 Publisher Luo Qiang with Franz from Jeans Team. Click here to see the other persona of Luo Qiang. That is the robot "17″. Luo keeps a photo blog on Weibo about 17′s experiences.
An two-page interview with me is part of the current cover story in China's Famous magazine. So far, I've only seen this image on Weibo, but I should be seeing the actual article soon. More then!
After a successful gathering with Daniel Wang at Jeffrey's apartment, we teamed up with FakeLoveMusic for a Berlinish bash with German bubbly in my mini-yard nearby Prince Gong's Mansion. DJing was Berlin-based electronic music group Jeans Team, but the main point was all the patterns and colors worn by the guests as documented by photographer Charles Bédué. These photos were featured in iLook magazine, media magnifico Hong Huang's publication.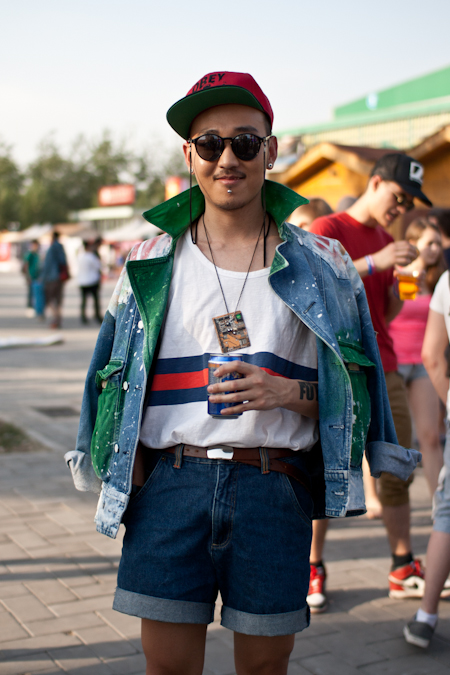 Photo: Suzy
What an interesting coat and pairing of denims!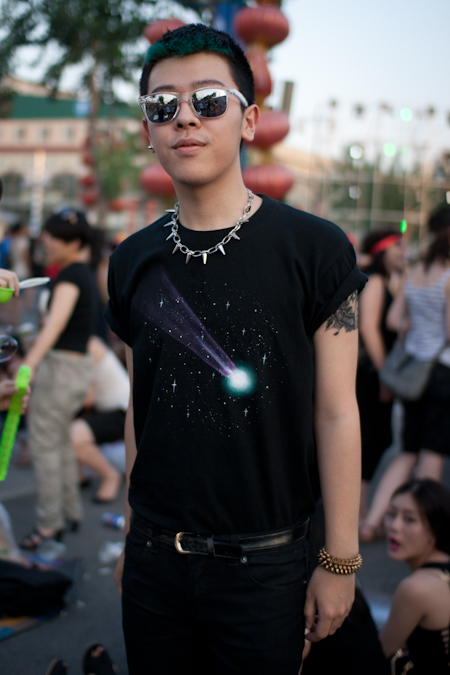 Photo: Suzy
What an intergalactic sort of tee-shirt!
Photo: Suzy
This shirt makes me think of a tropical island or perhaps sitting on the coast nearby Alexandria.
Here is the front row at yesterday's Zhang Chi show.
Tommy and I were a bit late, but we ended up making it in time for the very beginning of the show. Here are the girls in the front row and here are photos of the show from Trends. The gifts that Simon Gao gave out might have been the most distinctive that I have yet encountered at this type of event. His translucent hooded capes in black are unisex and quite the signature item.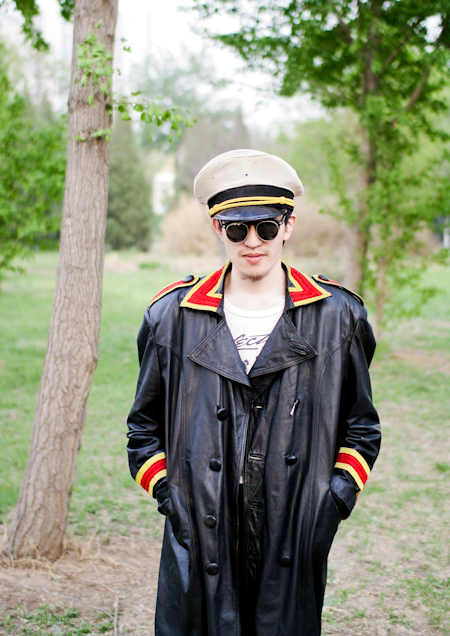 This fellow likes his coats. A seller of secondhand goods, he plies the various music festivals and rummage markets of Beijing.
I realize that this image is from a few weeks, so it might look a bit unseasonable.
This has been quite the season for big events with Hugo Boss and Armani being particularly massive. There was also a very cool Alexander Wang party a while back. It was the John Paul Gaultier show that was the most memorable for me. The drama and theatricality of the affair made it so much more enjoyable than other shows. A sort of tribute to the life of Amy Winehouse – who seemed to be quite popular with the audience of this show – the show displayed some rather heavy flirtation with decadence, excess and a coquettish glamour. The feeling still managed to be very Parisian. Even items that taunted the boundaries of taste and wearability were exquisitely detailed and showed a nuanced understanding of the interplay between humor and craftsmanship. Though the afterparty was not quite as grandiose as some other recent bashes, the fashion at the show was more than enough to satisfy the audience. Someone commented that China's leading young designers were looking on enviously from the front rows, wondering how Gaultier can be so skilled at created such a distinct fashion vocabulary.
Unfortunately, I was encountering some technical difficulties … Read More »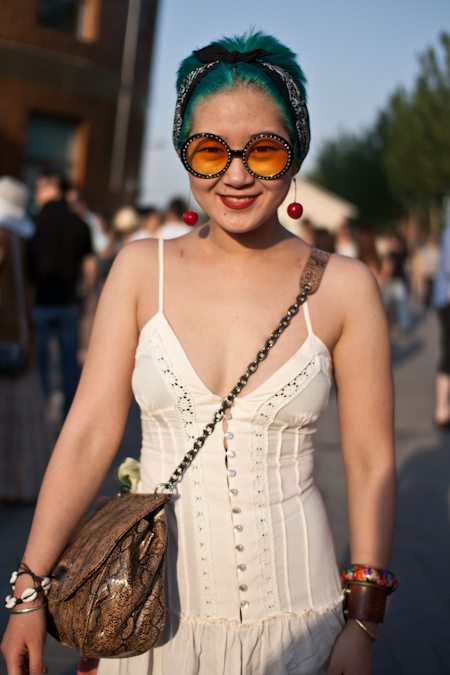 Photo: Suzy
At Intro music festival, what cute earrings!
---