January 31 2007 (09:28:00) US/Pacific
If you like a good Bloody Mary, check out the 5:19 bar at Women's Street. They have the best one in Beijing. In fact, it was the best I've had in the world. And it was 25 RMB, which is quite reasonable considering the imported ingredients.
I went there this past Saturday night for a discussion on Lolita that didn't really materialize.
As an added plus this bar has a contingent of builders and carpenters from the Southern regions of the United States. They are a very lively and congenial bunch. This is a very authentic collection of dudes from Louisiana, Mississippiand other Faulknerian sorts of places transplanted directly into Beijing. You should go to this bar just to meet them. They are building our government's new outpost in this heathen land. They recognized me as a Yankee at once but were very friendly anyway. The owner is an Canadian named Dave who has opened several similar bars in Beijing.
5:19: 8448-0896 26 Xingba Lu, Nuren Jie Next to PiliPili 女人街星吧路28号 比力毕利餐吧旁边
Comments
Pity the souls of the heathen masses that must burn for eternity in the infinite cauldron of hell!
Posted by Lincoln Annecam on 01/31/2007 05:05:30 PM
January 31 2007 (09:08:00) US/Pacific
Near the Dongsi and Chaonei Avenue intersection.
The amount of faux fur in Beijing is irritating, though apparently not to the skin of most Chinese men. That's Beijing even did a guide to buying fake (or real) fur. Almost every down coat (羽绒服) in the city has fur around the collar. Does it really offer that much extra warmth? Do you really need that warmth in a city where the temperature rises by five degrees with each new winter? No matter how much fake fur people wear, they are loath to don a hat even on the few days that are genuinely cold. Yes, I am bitching about Beijing not being cold enough.
Often the coldest days are the windiest ones and on these days the air pollution is swept away. The sky becomes blue and the air crisp.
(Photos: Colin MacLennan)
January 30 2007 (05:55:00) US/Pacific
Stripes were the new stripes at Colin's birthday party held last week at a fabulous, but secluded, Hunan restaurant north of Oriental Plaza. We rented out a whole section of this trendy but authentic establishment. I forgot to bring my original gift for Colin, so I picked up the newest and most popular Paul Smith accessory to overwhelm local markets.
Let me not take credit for work that is not my own. Please go to Colin's flickr empire at:
http://www.flickr.com/photos/genki_cochan/
January 29 2007 (08:25:00) US/Pacific
N+1, NYC's chicest new literary journal, is now on sale at the Bookworm, Beijing's premier literary cafe, lending library and foreign language bookstore. The Bookworm is Beijing's literary hotspot for the foreign community – a hive of aspiring intellectuals. Every writer or reader passing through Beijing stops at the Bookworm. Check out their website for more information: http://www.beijingbookworm.com/.
As VP Asia-Pacific and China Marketing Director for N+1, I am proud of our prominent spot in this esteemed literary institution.
Several copies have already sold. The price is RMB 100, which is now about 13 dollars.

N+1 is next to the The Jews in China, which is a photographic journey through a century of Jewish life throughout the mainland. It contains many fascinating photos of mixed Jewish-Chinese families, highlighting the way Jewish Europeans found a welcoming haven in Shanghai and other Chinese cities before and during WWII. One can see from these photos that the Jews integrated locally to a much greater extent than many other European settlers. I searched for pictures of relatives of my dear friend, David Adler, whose family lived like royalty in Shanghai during the thirties and forties.
The Jews have been a tiny but notable part of the tapestry of minorities since the Northern Song Dynasty, when they established a community in Kaifeng.
January 28 2007 (03:30:00) US/Pacific
I visited the What? Bar, after nearly a year of frequenting posher establishments.
This band was pretty good I was told. Of course, I don't actually enjoy raucous music, whether it be dance, hip-hop or rock. I do support the subversive spirit – especially here in China.
The What? Bar is one of the most famous live music venues in Beijing. Located just north of the West gate of the Forbidden City, the What? Bar is on Xichang Road, the narrow strip that runs between the new and the old centers of power. Thirty meters east of the What?Bar is the Forbidden City, from which the emperors of Ming and Qing issued their dreaded commands. Fifty meters west is Zhongnanhai, the "Southern Central Sea", center of power for the modern rulers of China. There is a notable dearth of other commerce around the What?Bar, certainly no other bars or businesses catering to foreigners or the Chinese bourgeoisie.
January 28 2007 (03:06:00) US/Pacific
This sign is from the doorway of a Mexican restaurant in Shanghai: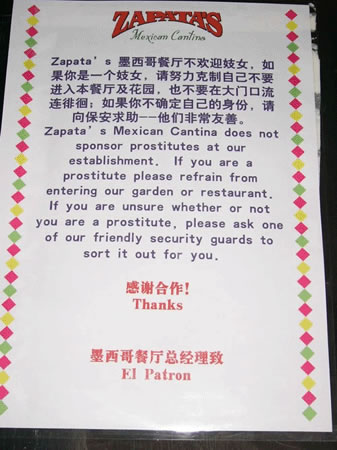 This photo is from a discussion that I started on the forum of thatsbj.com
Comments
we disapprove this resteraunt Notice. it's posted by that pervert wacko Laozhong aka Macro polo aka Laowild aka street laowai. i thought prostitution is always some hidden factor to promote the economics developing, no matter in what countries. a fairly subtle contribution to national GDP.
Posted by Mottosinner on 01/28/2007 09:39:19 AM
Nobody is saying prostitution is bad or that it is unique to China. I'm sure it plays a part in the economic miracle (may that miracle be praised and worshipped eternally). On a side note, would anyone shed tears if they never heard the acronym "GDP" again? One of the reasons why so many development experts are trying to create alternative macro-economic indicators must be that they are simply sick of this yardstick's divine status.
Posted by stylites on 01/29/2007 08:32:51 AM
January 28 2007 (03:01:00) US/Pacific
Ugo Umeh came in for his first fitting yesterday. He is using an s120 navy matte from England. This is the best value option we offer, and perhaps the best value for a custom-made suit anywhere in the world: 2500 RMB (320 dollars) for a slim fashionable suit in durable, all-season, English suiting wool.
This is going to be one of the best looking suits, which is partially owing to the model-like physique of Ugo.
Ugo lives in New York City and he was born in Nigeria. He is at the start of a career in investment banking. He will be based out of Hong Kong.
This young lady entered the shop and unobstrusively watched the entire fitting process. Her job is to welcome people into the building where the tailorshop is located. There are three or four other people who have this same job. They all stand in the lobby visible behind her. She wants to find a foreign boyfriend to learn English.
January 27 2007 (07:50:00) US/Pacific
The happiest day in a long time.
I am accessing my chic and sporty blog from China.
January 09 2007 (05:44:00) US/Pacific
Dear Fans,
This regrettable situation with the web has continued. I have no way of accessing this blog and updating, which has caused no small amount of anguish. There are so many uberchic happenings in the chilly courtyards of Beijing these days. I need for you to know.
Please go to http://blog.sina.com.cn/u/1273331532. This is my stopgap solution. Sina is one China's largest web portals.
I'm going to go be up-and-coming with it.
We will be back here shortly.
Once again: http://blog.sina.com.cn/u/1273331532.
Best,
Nels
January 01 2007 (14:52:00) US/Pacific
The earthquake in Taiwan made the internet really hard to access from the land of Yellow. Please keep checking back since the Central Committee will rectify the situation imminently. I have some fantastic material waiting. (0) Comments | Post Comment