Homie Trousers, HK and BJ
A pivotal moment in recent men's fashion received ample expression at the Lane Crawford party. Not only are the dropped-crotch trousers a key look for men in winter 2007, they are also one of the memorable pieces from Hedi Slimane's last collection for Dior Homme, and consequently a collector's item. Women, especially Japanese, have enjoyed this less constricting style for several years and a few menswear designers have attempted these trousers lately, but Hedi Slimane succeeded in making them look edgy and rockstar-like, as he does with most pieces. They stand in marked contrast with the extreme slimness for which his collections are known.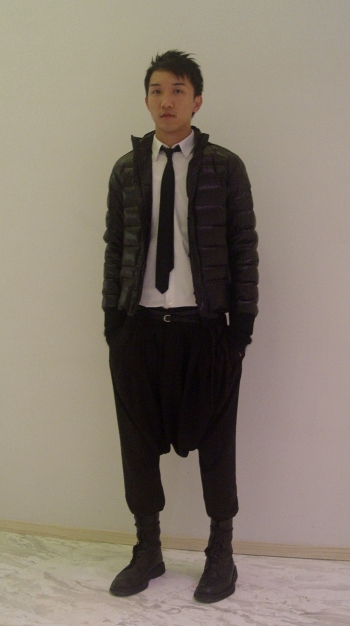 They're not Jodhpurs, intended for riding with a flare at the thighs and a standard rise, and they're definitely not harem pants. The inspiration appears to be "dhoti" pants from India, which are normally paired with the "kurta" – a long pajama-like shirt. It is perhaps in being paired with other more stock Dior Homme pieces like the slim black tie and small-collared shirt that these trousers really shine. Clothed head to toe in Dior Homme, Marcus is a VM Manager for Lane Crawford. His comment on the night: "With a Lane Crawford better than the ones in Hong Kong, Beijing will quickly supplant Shanghai as the mainland's fashion capital.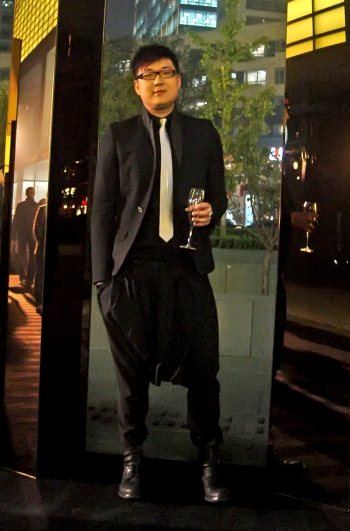 I asked Richard: "Where is the jacket from?" "Dior Homie." (his pronunciation) "The tie?" "Dior Homie." The pants? "Dior Homie." Beijing's new Dior Homme carried just four of the 100% wool dhoti-styled trousers, which I now call "homie trousers", at RMB 6,200 (USD 840) a pair. Richard nabbed one and urbanized the slightly rough look admirably – the glass of Moët helped too. He carries the homie trousers with somewhat more aplomb than the Hong Kong Homie, in my opinion, due to his commanding attitude. I would argue that Richard's healthy appearance goes better with the trousers than that of the waif-like model wearing them on the runway: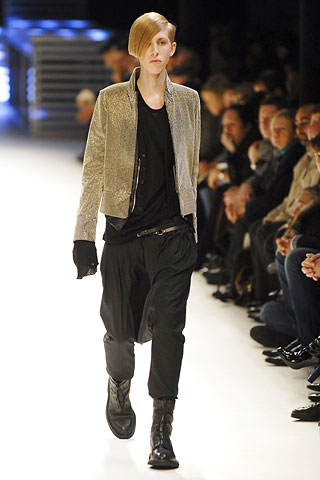 All told, while the silhouette is refreshing, one can't deny that it is a risky look. Without buying the entire Dior Homme ensemble and, maybe, being Chinese and thus quite removed from American pop culture, a certain comparison might be made.
The Homie pants should not be rejected for eternity just because of that unfortunate episode. I encountered Richard again recently and he showed his usual appreciation of the drama and fun that I believe should always be a part of fashion.
Anyone who carries a glass of champagne for every picture is fine by me. I still haven't found out what Richard does or believes. I would like to constantly have a glass of champagne in hand, and have a little man for refilling follow me everywhere I go. A second man would push along a Louis Vuitton wardrobe filled with bottles. That is the only LV piece I would ever buy, and it necessitates the hiring of a man whose sole purpose in life is pushing it. There's a thought for the new wealthy of China.