Teddy Pendant at Uniqlo – 小熊吊坠在优衣库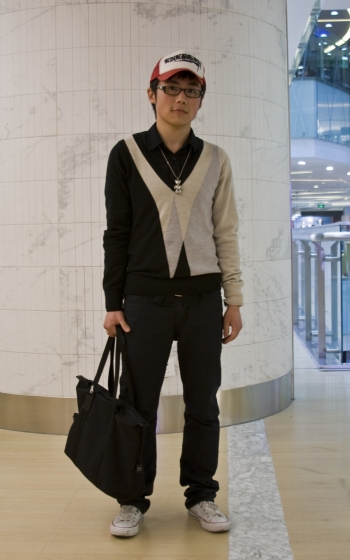 I ran into Jesse Chen, an IT salesman, at the first Beijing Uniqlo on its first day of business. He and his friends made several purchases and felt quite positive about this new shop at Xidan. Likening Uniqlo to Ikea, he commented that the quality seemed better than Zara, while the prices are significantly lower. As for domestic competitors, Baleno and some others might qualify, but he felt that no Chinese apparel retailer possesses the same ability to create a "culture" around its brand.
我在北京优衣库开业的第一天碰到了Jesse陈,一个做IT销售工作的男孩。他和朋友们在这个商店买了一些东西,感觉比较满意。他觉得优衣库的生意模式像宜家。他还说优衣库的衣服比Zara有"质感",但是价格更低一些。谈到国内的竞争对手,班尼路等品牌也许能算是,但是他觉得中国的服装零售连锁品牌还没有一个像优衣库这样能够创造一种"文化"的。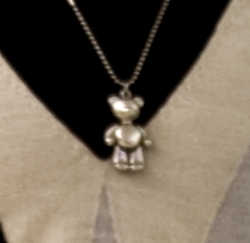 His cute teddy bear pendant reveals that even as a grown man he retains a small child's spirit.
他可爱的小熊吊坠泄露了一个成熟男人的小秘密,那就是可能他仍然保留着做为小孩子的年轻心态。