Tedious Trend Three: Skulls
Calling this trend "tedious" is far too glib, considering the long history of the skull in art, jewelery and fashion. As this fun Esquire piece contends, the current omnipresence of skulls matches our global society's unabashed embrace of wealth and materialism with its ephemeralness. The skull is probably even more fitting for this moment in China's history and quite an appropriate symbol to mention on a website that celebrates a new blossoming of individualism and vanity. The skull has, often, represented the meaninglessness of these eternal human pursuits. There is not enough time to consider whether the skull might have any relation to this day, on which the Chinese people celebrate standing up for fifty-nine years, ever since the Great Helmsman declared the birth of the People's Republic. I did want to wish everyone a happy October first.
Anyway, here are just a few pics, of hundreds I could have chosen, to show that skulls in all forms are just as common in China.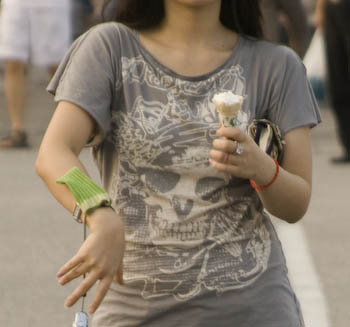 This one is a little bit pirate-like. This was right next to the bird's nest.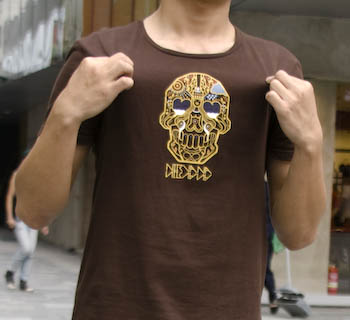 Here we have a creative skull that seems to have an almost Central American influence. The wearer works in the new Mac store.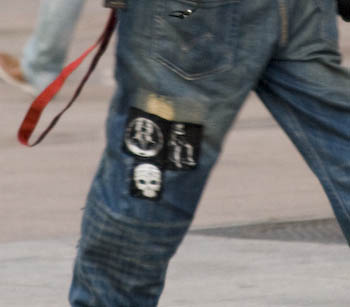 Here is a skull on the leg of a skater.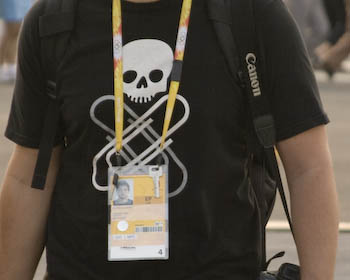 And a skull with paper clips.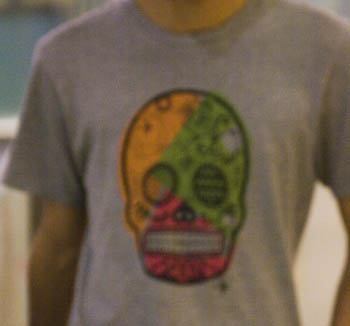 This one looks as if illnesses have haunted it well into the grave.
This post reveals my ignorance more than anything else. More research clearly needs to be done on the subject of skulls in Chinese culture. When young people in China wear shirts with skulls is it rebellious (like it was previously in the West) or is more fashionable (like it is now)? Clearly it has to be associated with death. Some might respond that they are just wearing shirts that they find amusing, but it cannot be that simple. There have been decorative skulls made from jade dug up at sites in China, suggesting ritual importance for the symbol.