The Cotton Porcelain Polo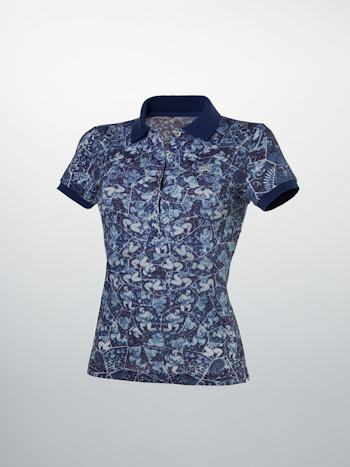 In addition to producing the porcelain polo, unlikely to be worn or re-produced, Lacoste asked Li Xiaofeng to design some cotton polos for the Holiday Collector's Series 2010.
李晓峰制作的青花瓷马球衫虽设计感十足,但可穿性并不强。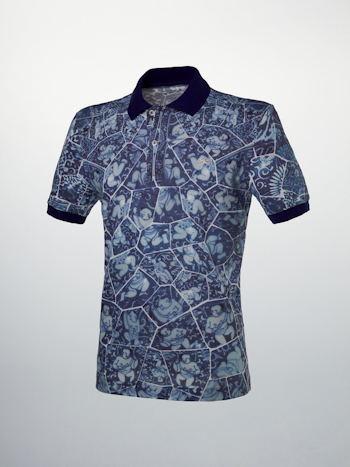 He came out with two designs, one for men and one for women. Some changes will still be made – Li Xiaofeng says the colors are not quite right – but the print will be the same as what you see here. The final version will be produced in a limited addition of 20,000. The print is based on blue and white shards from the Kangxi Period (1662-1722) of the Qing Dynasty (1644-1912), a time when both China and the art of porcelain production were at their apogee. According to Li Xiaofeng, it was a glorious period for his country, somewhat like the present.
因此,Lacoste希望李晓峰为他们的2010年假期收藏版设计较为大众的马球衫。李晓峰为男女各设计了一款,但是他说此款设计还需要很多的修改;尤其是上衣的颜色,但花纹应该会保持我们所看到的青花瓷图案。最后的成品仅会在全球生产20000件。这次马球衫的设计灵感来源于清朝(1644 1912)康熙年间(1662-1722)所常见的蓝白青花瓷碎片图案。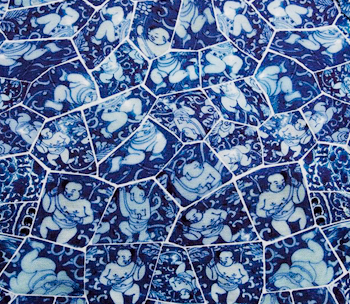 This print represents happiness and exuberant youth in the eyes of Li Xiaofeng. Originally the reason for images of babies was to promote the births and good health of children in an era of high infant mortality. Li points out that joy continues exist even in a life that is always faced with difficulites, a life where we must continually reassemble the pieces after setbacks. Li photographed each of the shards and placed them in life-sized digital pattern of each part of the polo.
中国皇朝与青花瓷的生产在这段时间都达到了鼎盛时期。据李晓峰所说,那是中国的光荣时期,就像现在的中国一样。在李晓峰的眼中,这样的图案代表幸福与旺盛年。他使用婴儿图片的原始用意是为了促进在这个儿童死亡率极高的社会的儿童健康茁壮成长。李指出,欢乐与幸福其实一直都存在与我们的生活,即使在困难时期,我们都必须要面对那些挫折,并努力的寻找身边的幸福。李晓峰照下了组成这款青花瓷马球衫的每一块碎片,并用数字技术把它们组成实际大小的图案。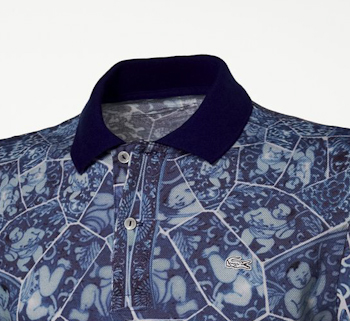 Lacoste is using its highest end white crocodile logo for this special edition.
Lacoste在这款特别版马球衫上使用了他们最珍贵的白色鳄鱼图案。